View Archived Newsletter
its the DanceSport Australia November 2017 Update
---
Welcome to DSA newsletter for November. This edition is packed full of important updates and handy information.
In this issue we talk about:
President's message
Adjudicators code of conduct - new rules
Concussion policy
Dress code - enforced from Aussies onwards
Caring for your feet - part 2
Strictly Recreational - attention coaches
Dance Boss application - Channel Seven
So you want to be a coach or adjudicator?
WA Open DanceSport spectacular
Automatic elevation
New - WDSF Athletes 'e-Cards'
And the next three months of competitions
Interested in reading different topics? Let us know. Email marketing@dancesport.org.au
President's message
DanceSport members, competitors and supporters, 2017 has seen a modest growth in competitive numbers although there is a slight decline in Amateur Competitor numbers. The decline in Amateur numbers will continue as the average age of our competitors continues to rise. To state the obvious, development must be the No. 1 priority for the foreseeable future.
All DanceSport development starts with our 'grass roots' section, the Recreational Division. I cannot stress enough that this area of DanceSport competition is underpinned by various State Sports Department's definitions of a Recreational Sport: fun, accessible to all and at minimal cost. DanceSport Australia respects these principles and will continue to monitor and, where necessary, modify rules to ensure entry costs are kept to a minimum.
The Recreational Division (and the Amateur Juvenile section) have 'restricted dress' and 'restricted syllabus' requirements. The purpose of these is to reduce cost and emphasise to competitors that competition is about how you dance, NOT what you wear. For the record; there has been no change in the 'restricted dress' rules or 'restricted syllabus'; the Recreational Division requirements are the same as the 'old' Level 1 requirements.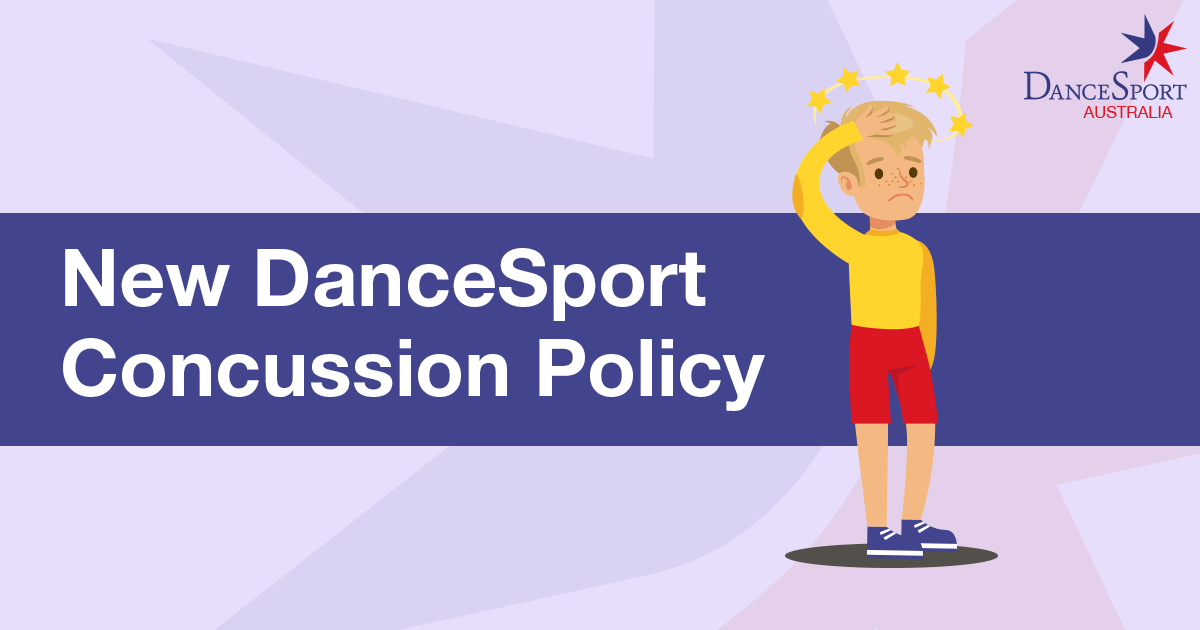 Concussion Policy
Concussion can affect anyone
Sport-related concussion is a growing health concern in Australia. It affects athletes at all levels of sport, from part-time recreational to full-time professionals.
More focus on managing concussion
Concerns about the incidence of concussion and possible health ramifications for athletes has led to an increased focus on the importance of diagnosing and managing the condition safely.
Participant safety and welfare is paramount when dealing with all concussion incidents.
Collaboration
DanceSport Australia has introduced a Concussion Policy in conjunction with the Australian Institute of Sport and AMA guidelines and with kind assistance from Dancesport WA at the National Directors Meeting held in Melbourne on 14 October 2017.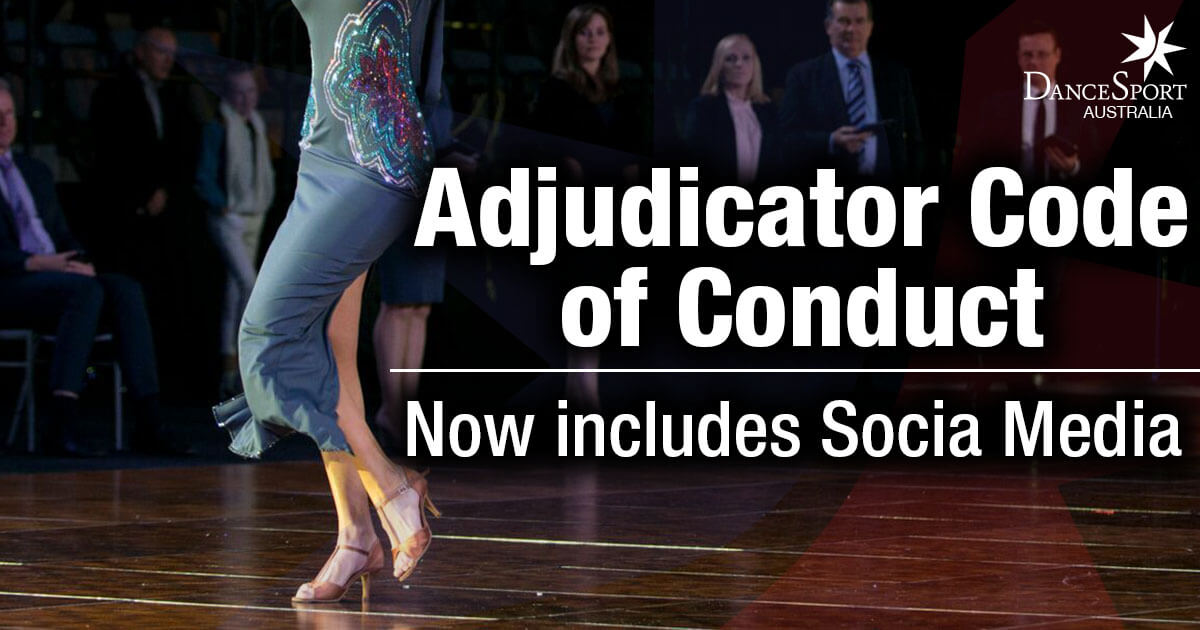 Attention: Adjudicators - New Rules
Expanded to cover social media
Due to the popularity of social media we have expanded the Code of Conduct to cover this area.
The essence of the new rule, in plain English, is:
Adjudicators must not post, 'like' (and use emojis) or comment on any social media in relation to any DSA competition at which they are officiating.
Further, they must not allow their image to be used. For example, photos of couples with Adjudicators are not acceptable and must not be posted by a third party.
Click here for detailed information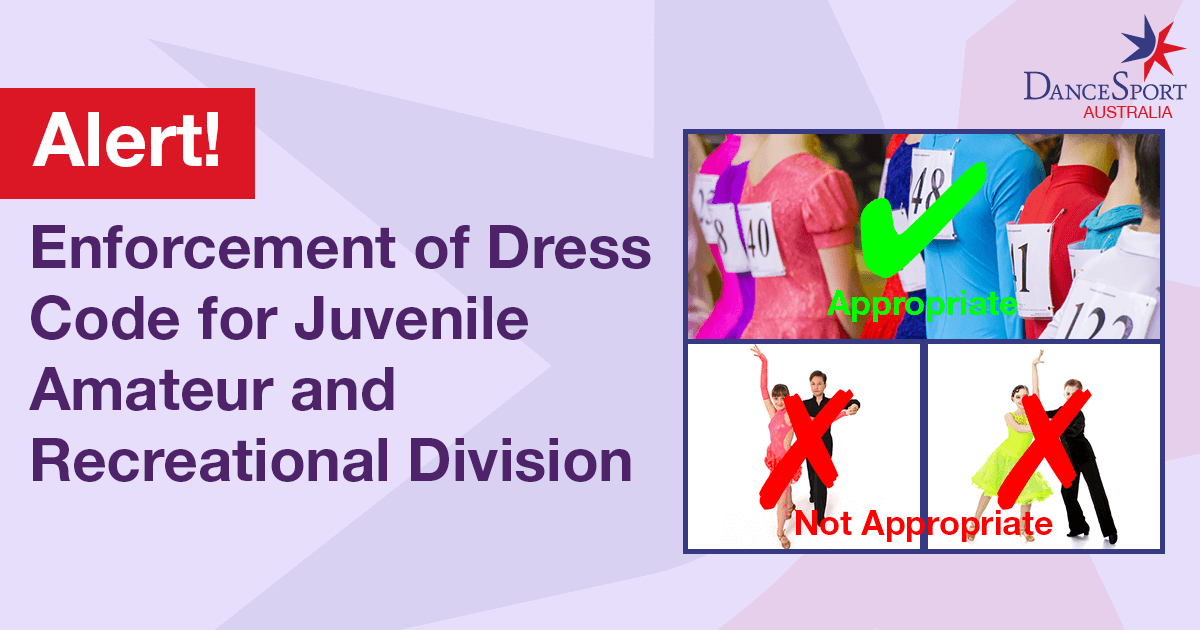 Alert! Know the Restricted Dress Code Policy
In recent years the dress code has not been adhered to, therefore dancers are not competing on a level basis. As we head towards the Australian Championships in December, please note:
The DSA dress code policy was formulated to create an even playing field in the:

Juvenile Amateur Division
Recreational Division

In the Juvenile Amateur Division particularly, the dress code policy was designed to make it affordable and accessible for all our young competitors and their families.
DSA is determined to enforce the dress code rules as they appear in the policy section.
It is very important coaches, competitors and parents read the code thoroughly and make themselves very familiar with what dancers are allowed to wear for their particular level.
Coaches please not there has been no changes to this policy with respect to the introduction of the Recreation Division. Restricted Dress that was appropriate for Level 1 (E Grade) competitors is the same for all Recreational Division events.
Please contact marketing@dancesport.org.auwith any queries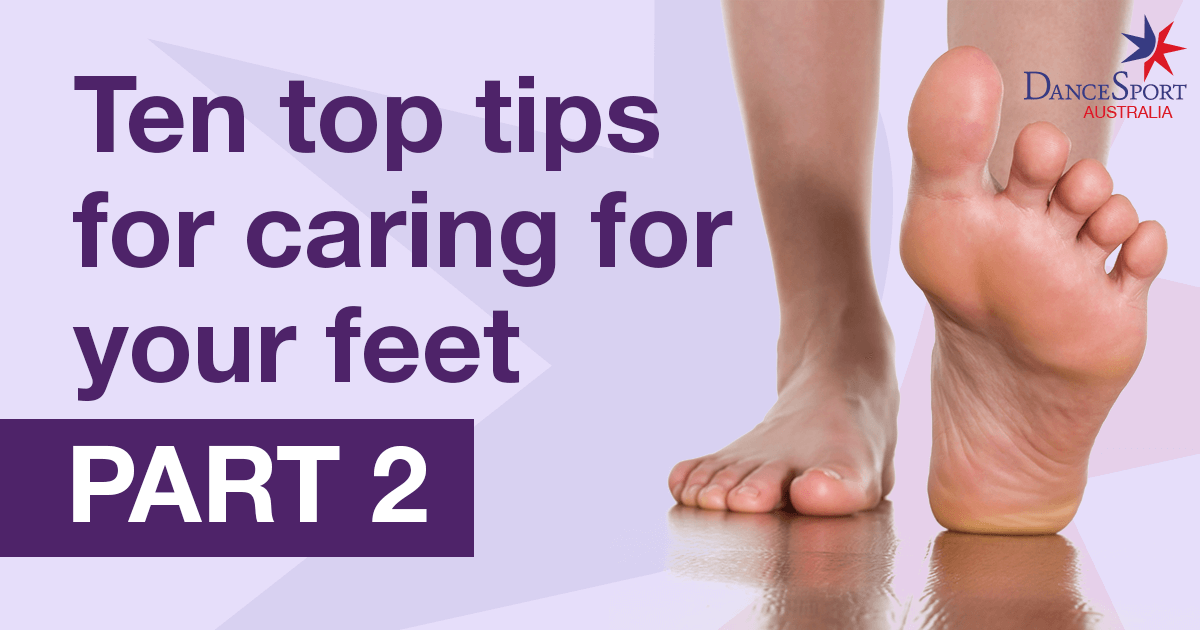 Caring for your feet - Part 2
Top tips for looking after your most vital asset
Shoes - the importance of being well fitted
Legs up the wall
Stretching
Love those calluses
The downside of toenail polish
How to deal with those pesky blisters
Click here to read on for details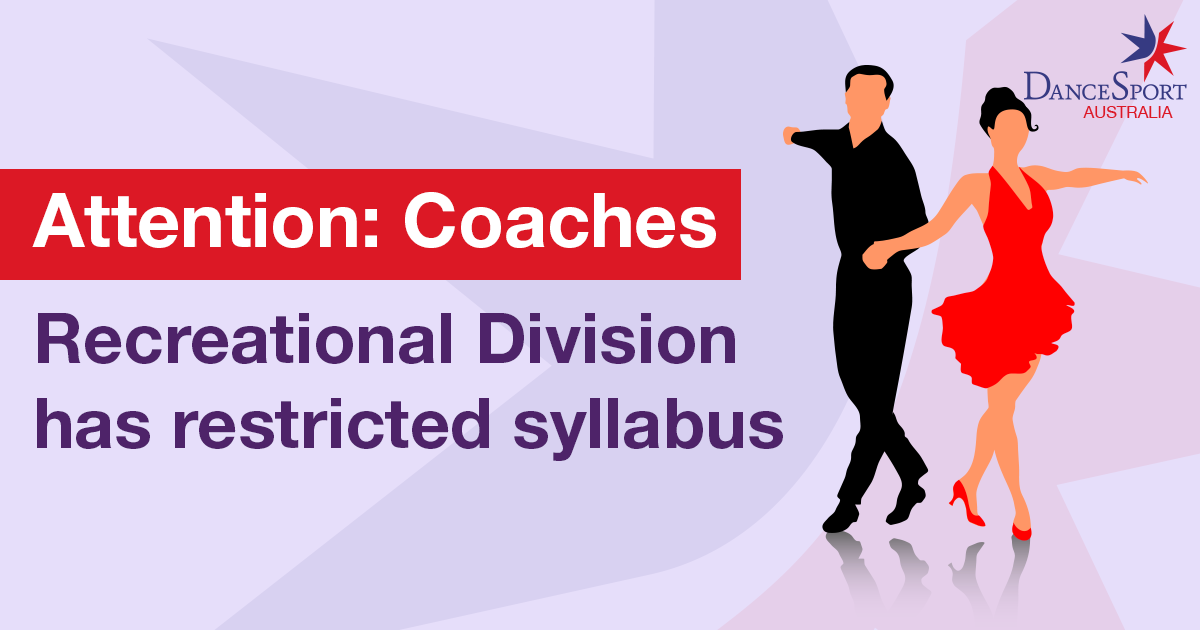 Dancing Recreational means dancing strictly restricted syllabus
It's not just strictly ballroom in DanceSport - it's Strictly Recreational - as there is a restricted syllabus.
Restricted syllabus
Recreational Division has a restricted syllabus of which many teachers are not aware. It is a simpler syllabus so dancers can focus on technique and the basics
It's the same syllabus as for the old E grade and Level 1 Division.
Some of the steps for Cha Cha are:
Basic Movements - Closed, Open, In Place
Spot Turns - to Right, to Left
Switch Turns - to Right, to Left
New York - to Left Side Position, to Right Side Position
Fan, etc
Click here to read on for details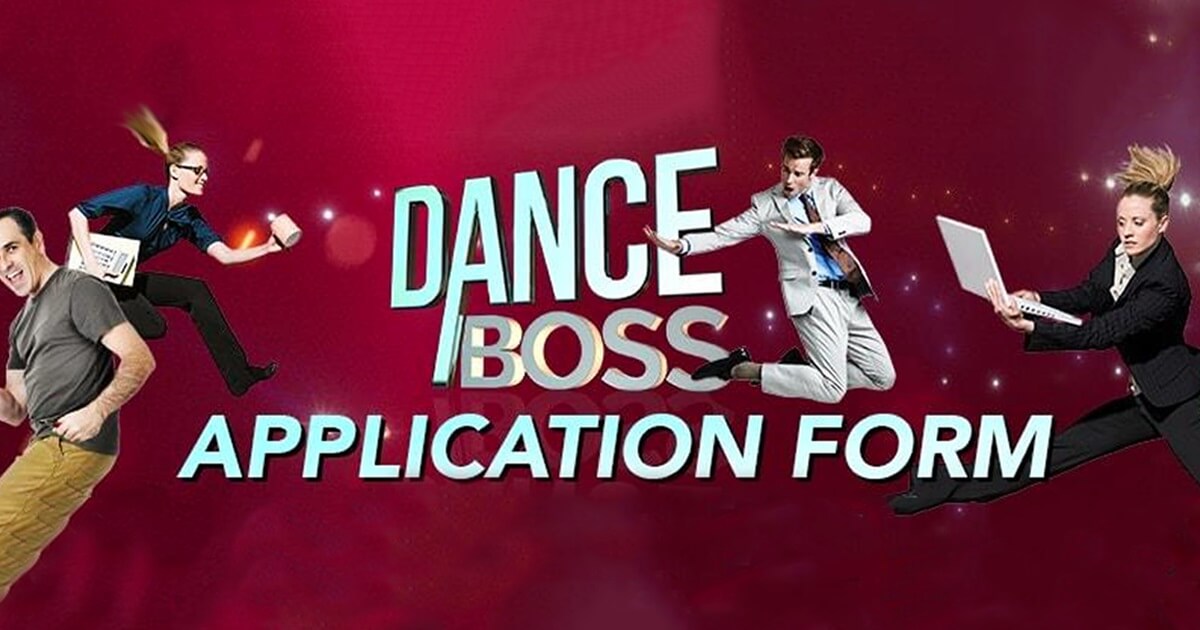 Dance Boss applications
Closing 24 November, 2017
Channel Seven are looking for very good dancers who work full-time (in a different occupation) but have a flair for dance.
They are offering cash prizes in a show that celebrates the human passion for dance.
Click here to apply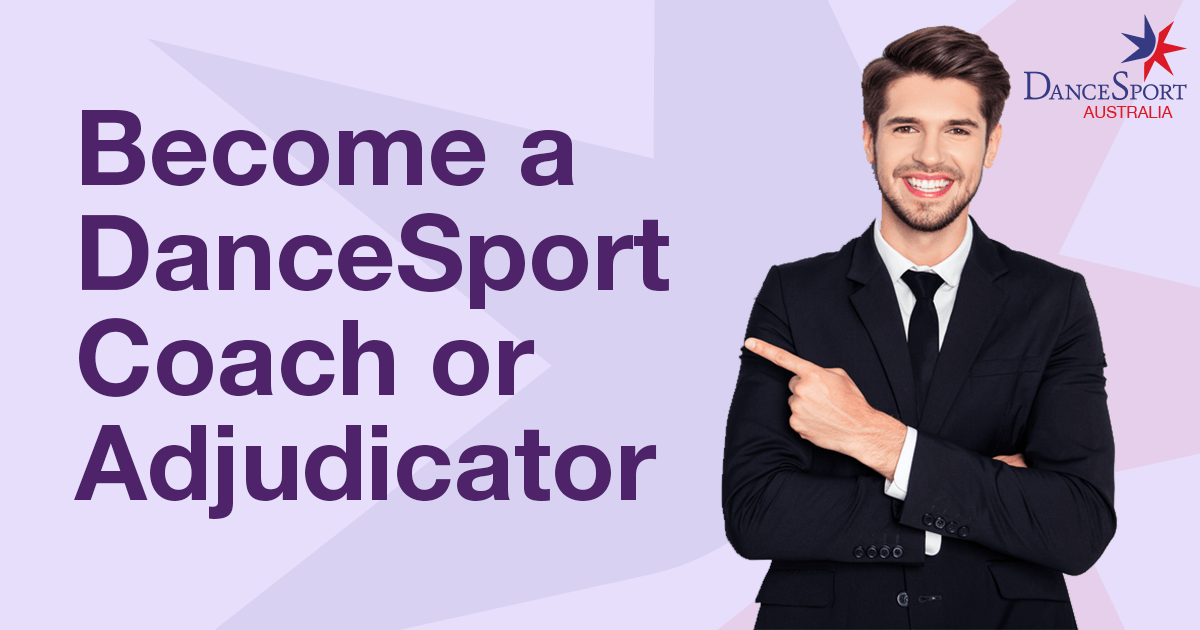 So you want to be a Coach or Adjudicator?
Find out about the Accreditation Process
While it is a DSA process, it starts locally and is overseen by the State Board.
The most important parts of the process are:
There are two main categories:
COACH

Assistant DanceSport Instructor
DanceSport Instructor
Coach
Elite Coach

ADJUDICATOR

Competition
Championship
National Championship levels
Reprinted from Focus online magazine. For more details, click here.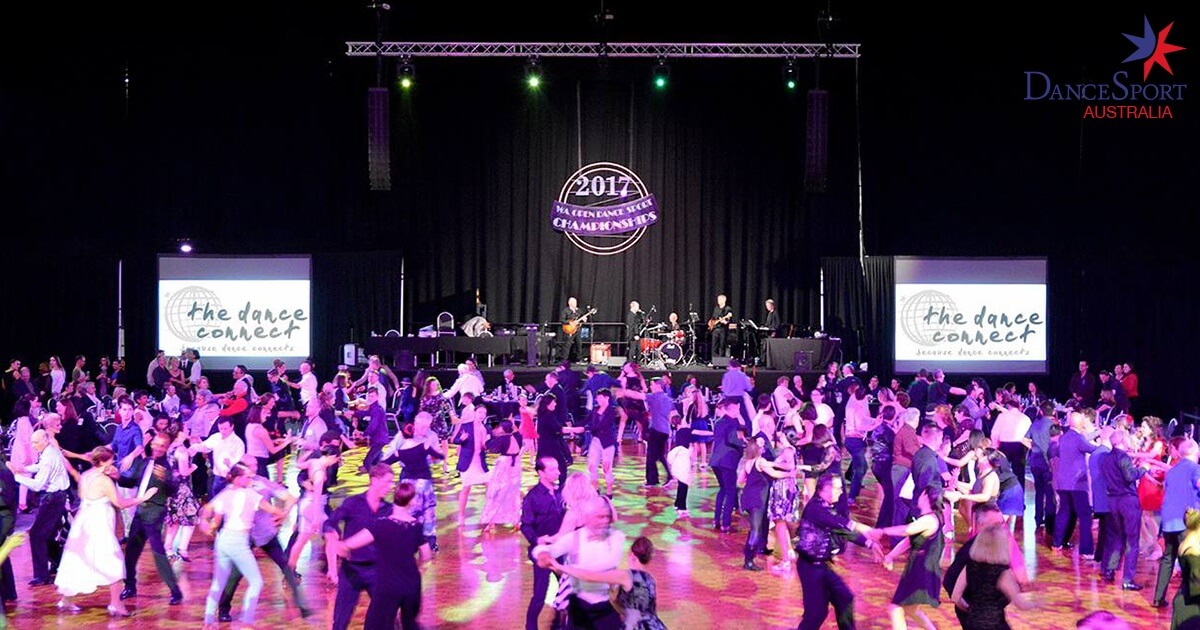 WA Open Championship
The WA Open Dancesport Championship was held on Saturday 28 October and it was a fabulous day. This event has a 32-year history with a proud list of well-known champions.
Some of the highlights were:
Growth in numbers
Great volunteers
Pumped afternoon competition
Fabulous evening show
Major sponsor: Healthway
Read more about it here.
New - WDSF Athletes 'e-Cards'
All WDSF registered athletes and DSA competitors registering with WDSF, please note.
Already have a valid plastic WDSF ID card?
WDSF will send instructions how to convert to the new e-Card. Applies to existing and active WDSF athletes.
Note that applicants now pay WDSF directly online when applying.
Questions? Email DSA CEO Steve Edwards at ceo@dancesport.org.au
---