Welcome to DanceSport WA
1. National Election Year
This year is a DSA National Election year - nominations are now open for National Council. Current serving members of State Branch Boards, a National Councillor, or those persons who have served a minimum of two (2) years on a Branch Board or National Council are eligible to nominate for election to the National Council. Elected persons will serve as Company Directors for 2 years.
Nominations (including photo and resume) can be submitted by email to the General Secretary – gensec@dancesport.org.au . Nominations will close on 5pm Friday 6 August, 2021.
For more information regarding eligibility, voting procedures and election timeline, please visit https://dancesport.org.au/blog/2021-national-elections.php.
About National Elections
National council elections are held every 2 years wherein eligible DanceSport Australia Members will define 10 people who will become Directors of DanceSport Australia Ltd.
The elected persons will then serve as Company Directors for 2 years and be required to assume the legal responsibility of a Company Director (as directed by ASIC) as well as attend Director meetings.
Voting is completed On-Line through your Account. No personal data or information referring to your identity is recorded with your vote.
To be eligibe to cast a vote in the National Council election you must;
be 16 years of age or over as recorded by the Member Registry,
be a Full Member of DSA (Ordinary Member, Amateur or Professional Division or an Accredited Member),
have been a Full Member for a minimum of one year, and
be financial before the 1st August 2021.
NOTE: Recreational and Athlete License competitors are NOT Full Members however they may apply for an Ordinary Membership and be eligible to vote in State and National elections provided they meet the above criteria..
National Election voting will start Monday Aug 23rd 2021
For members eligibility to vote please see: https://dancesport.org.au/election/election_about.php
2. Coaches and Competitors Open Meeting - Competition restructure proposal
An open meeting for Coaches and Competitors has been advertised - they can log into their DSA member account to access the Zoom link. This is to discuss the competition restructure proposal.
https://dancesport.org.au/blog/2021-all-coach-competitor-meetings-22-july.php To share this news on Facebook click here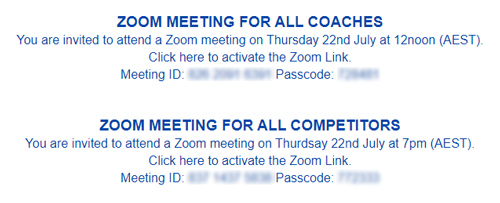 Open Meetings for Coaches and Competitors
Two open meetings have been scheduled for Thursday 22nd July for DanceSport Coaches and Competitors.
Both these meetings are to discuss possible changes in competition structure to address issues both long standing and Covid related.
Meetings will be held on-line using Zoom. The link for meetings will be each Members online account.
Other News
XVIII Australian Masters Games Perth (dancesport.org.au)
Play Time In Perth | Australian Masters Games Contact Adam Penn for details!
https://dancesportwaevents.com/ Masters Games, DSWA Events Mandurah & WA Open Info
DSWA 2021 Calendar as at 04/07/21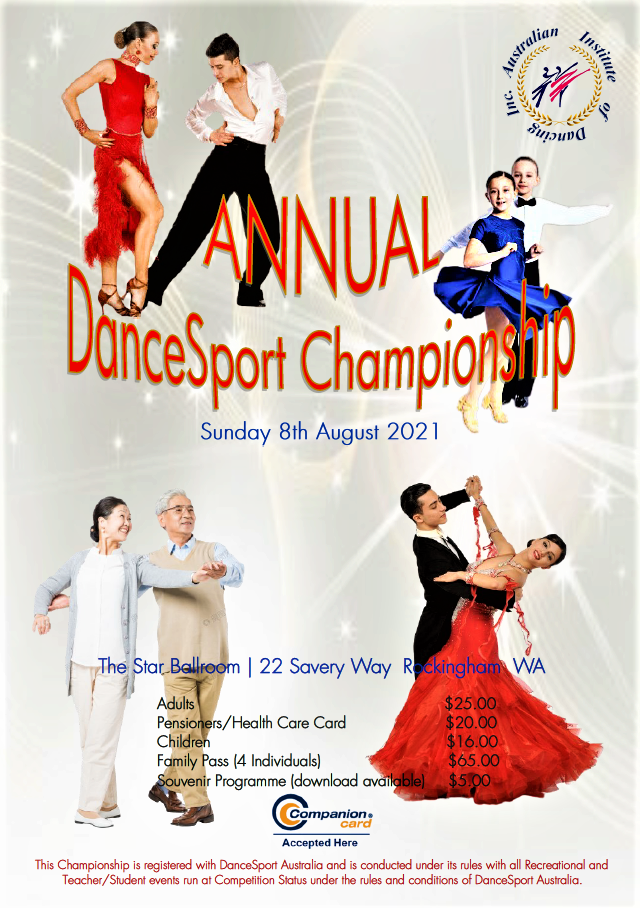 Screed Event Guidelines Entries close Friday 30 July