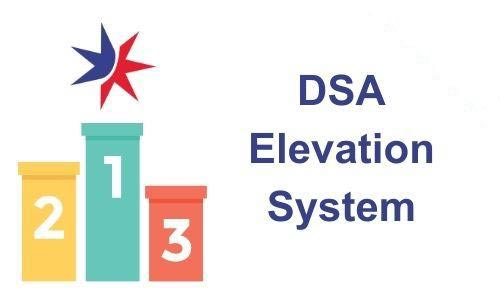 Elevations Updated for 2023
The new DanceSport Australia Elevation System came into effect from 1 January 2022 and as per DSA rules, these elevations have now been applied to all eligible competitors for 2023.
These are the first elevations since the pandemic disruptions and hopefully DanceSport can now move forward with little or no restrictions into the future.
We encourage all competitors to check their DSA Member accounts for any elevations applied to their gradings for the 2023 competition season.
Click here for more information on the New Elevation System
How are Elevations applied?
1. A record of every competitor's result in a DSA registered event is recorded via the DanceScore Scrutineering system. Every place in every event is a record within the 'results' database which records such elements as Date, Competition, Event Name, How Many Couples/Competitors in the Event, along with the Placing and Ranking information if any.
To put this in perspective over 81,000 result records have been generated by DanceSport competitions since February 2021.
2. When the DanceScore data is uploaded to the 'results' database the number of Points attributed to a competitor is triggered by the level of the Competition. As you would be aware this is a sliding scale from the Australians at 60 Points, down to a Competition at 10 Points, and Development Competitions do not attract Elevation Points.
Note that there are several conditions that need to be met for Elevation Points to attached to the record. The event name must contain one of the following, C Grade, B Grade or C&B Grade. A competitor places first, and there are 4 or more couples in the event.
3. On the 1st January (or close to) the script is run that will search the 'results' database to find those competitors that have reached the 60 Point threshold. This is divided into two parts, Under 16 Division and the Amateur Division. The Under 16 Division elevations will include competitors who were under 16 as of 2022, some of these will move to the Under 21 Age Group for 2023.
Those competitors who have elevated will have a 'Notification' attached to their member account and the new Grade will be recorded along with the reference date '1-1-2023'. These updates are obviously style specific.
4. Finally, those competitors who turn 13 & 16 years old in 2023 will be reduced in their Grades by one Grade. That is, A Grade will become B Grade, and B Grade will become C Grade. Those competitors who are regraded will have a 'Notification' attached to their member account showing the new Grade and the reference date '2-1-2023'.
DanceSport Australia Ranking System
It should be noted that this system works hand in hand with the Ranking System as this is using the same results database. It also allows easy access to results for competitors, administrators and State Registrars and will serve as a launching point for future features of the dancesport.org.au website.
Self Elevation still available
The option to self elevate at any time is available to competitors. An application to self elevate can be made to your State Branch in writing.