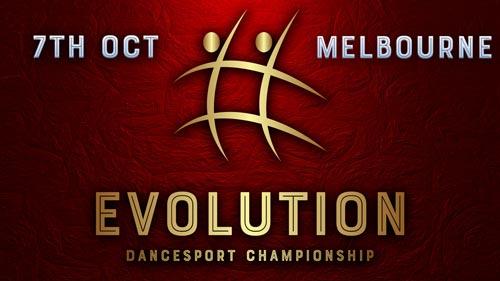 2023 Evolution Championship - Entries Open!
Following a very successful inaugural Championship, Evolution Dancesport Championship will be held once again in Melbourne on October 7th 2023.
The dance floor is expected to be even bigger than last year at 26m x 13m and is of course one consistent floor as was last year. There will be a separate warm up floor at 9m x 25m as well as a seperate marshal area so plenty of space to stretch your legs.
Syllabus and Entry Conditions
Evolution will be going paperless moving forward, this means all championship information and a printable syllabus are available online. The syllabus and entry conditions are now online at https://www.dancesportevolution.com/syllabus/ and entries are open via the DSA entry portal.
Entries and Entry Fee Payments
All entries and Entry Fee payments are via the DSA Entry System.
Entries close 7 September 2023.
Note: A late entry fee applies for all late entries.
Tickets
Tickets are already available online via the DSA portal and can conveniently be purchased and received instantly via the DSA ticketing service.
Competitor Tickets available via the DSA Entry System
Spectator Tickets availbable via the DSA Spectator Ticket System
Accommodation
Special accomodation rates are already secured both at Parc Hotel as well as La Trobe University, the details and booking instructions can be found at https://www.dancesportevolution.com/accommodation/ La Trobe University offers affordable accomodation options and is quite basic as well as being just 3 minutes walk from Union Hall.
One more special addition to 2023 is all Open events will be conducted over FIVE DANCES all the way from Juvenile to Masters 4 and Pro/Am. So get your Paso Doble and Viennese Waltz going as well as your fifth New Vogue dance and get ready for October.
CONTACT or FOLLOW US
Instagram: @evolution_dancesport
Facebook: Evolution Dancesport Championship
Tik Tok: @evolutiondancesport