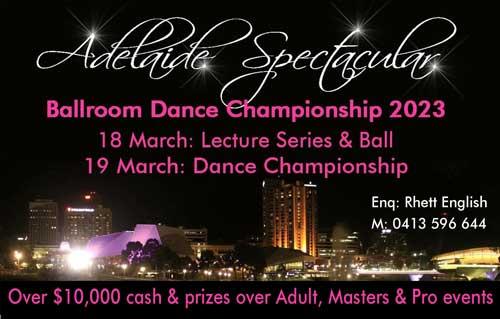 2023 DASA Adelaide Spectacular
The Adelaide Spectacular, Sunday 19th March is one of the first major Championships of the year and boasts an impressive cash & prize pool of $10,000 over all Open Adult, Masters and Professional events.
The extensive syllabus includes A, B & C grade in Adult and Masters 1, 2 & 3 age divisions as well as the Open events. Full Juvenile & Junior, Recreational and All Abilities.
All age divisions of Coach/Student, Pro/Am and Pro/Student events. New to the syllabus – Pro/Student American Smooth.
This event is also registered as and part of the Adelaide Fringe Festival – the 2nd largest Fringe Festival in the world.
Venue is the Croatian Club Adelaide and boasts a huge parquetry 25m x 15m dance floor. Competitors tickets must be paid online with entry, spectators can purchase tickets thru FringTix or at the door.
Saturday 18th has the traditional Gala Ball – a fabulous evening of social dancing, preceded by the afternoon Lecture Series/Workshop from 2pm featuring Australian Champions:
Darryl Davenport - New Vogue
Steven Grinbergs - Ballroom
Sigurdur & Annalisa - Latin
Don't miss the opportunity to work with these fabulous exponents of our industry.
All enquires and bookings to Rhett English M- 0413 596 644
Check the full syllabus here:
Syllabus - 2023 DASA Adelaide Spectacular Ballroom Dance Championship