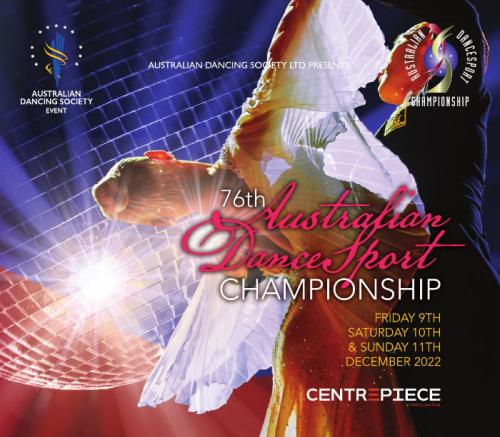 76th Australian Championship - Entries closing soon!
With less than 9 weeks to go, it's not long now before we start welcoming everyone to the 76th Australian DanceSport Championships!
Here are some important reminders for everyone attending.
Venue: CENTREPIECE @ Melbourne & Olympic Park, Melbourne
Dates: Friday 9th, Saturday 10th and Sunday 11th December 2022
Map will be released closer to the date.
Tickets via Ticketek
Tickets for the general public and anyone that has not already reserved their table seats are now available through Ticketek.
Tickets are selling fast so don't miss out.
Please click here to purchase your tickets... https://premier.ticketek.com.au
Phone: 13 28 49
Enter Now - Entries closing soon!
Entries WILL CLOSE ON Friday October 19th 2022.
NO late entries will be accepted.
Entries will only be accepted via the DSA On-Line Entry System.
Entry Fees and Admin Fees
A $15 Administration Fee will be charged per competitor (per CID number).
Entry Fees are as follows:
Coach/Student Single Dance Events - $15 per dance
Pro/Student Single Dance Events - $15 per dance
Pro/Am American Smooth Single Dance Events $15 per dance
Pro/Am Entry Fee - $80 per event $50 per event after
All other events are $5 Entry Fee per event
All Entry and Admin Fee payments are payable via the DSA On-Line Entry System.
For instructions on how to pay your Entry Fee and Admin Fee please click here...
How to Pay Competition Entry Fees
Competitor Admission Tickets
Please note Admission tickets are required for competitors for entry to the venue. To purchase tickets please check the Ticketek information shown above.
All competitors will receive a souvenir program.
Back Numbers do not require a deposit and do not need to be returned, they are yours to keep.
Proposed Schedule
Complete proposed running orders for all 3 days will be available online the week prior to the competition to help competitors plan their event.
For all enquiries:
info@theaustralianchampionship.com.au