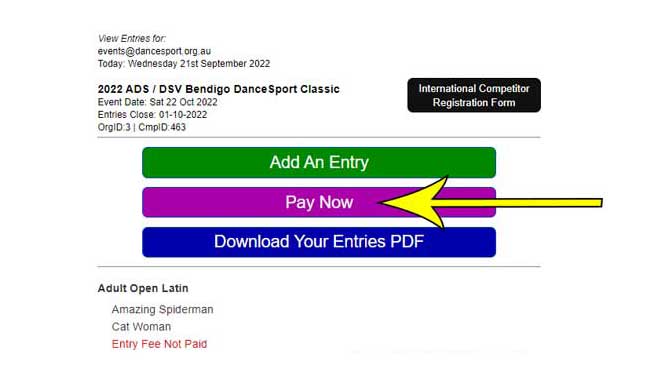 How to Pay Competition Entry Fees
Every DanceSport Australia registered competition now utilises the DSA On-Line Entry System which has greatly simplified the entry process.
All entries attract an Entry Fee per event which is payable through the DSA On-Line Entry System.
Please note that your entries are not valid until the Entry Fees have been paid.
Entries should be paid by the Entry Closing date as published by the Organiser as this enables sufficient time for planning and programming of schedules.
In some cases, payment of your Competitor Tickets or an Admin Fee may also be applicable.
Step by step instructions
Step 1
Login to the DSA On-Line Entry System for the required competition with your preferred email address.
To access the DSA On-line Entry System please click here.
Step 2
If you just added your events you will need to press the red Back to View All Entries button to return to the main screen as shown below.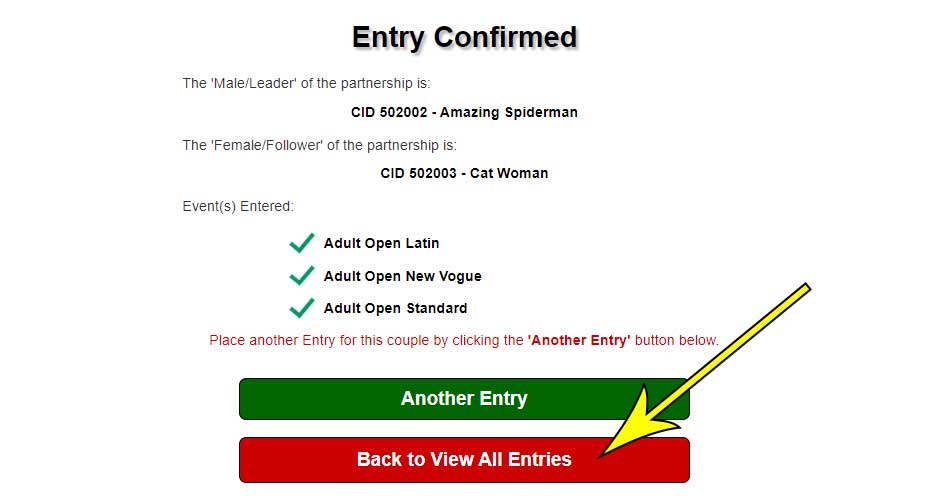 Otherwise, to access Payments simply login to the DSA On-Line Entry System with your email address used to place the entries.
Step 3
Press the pink Pay Now button as shown below.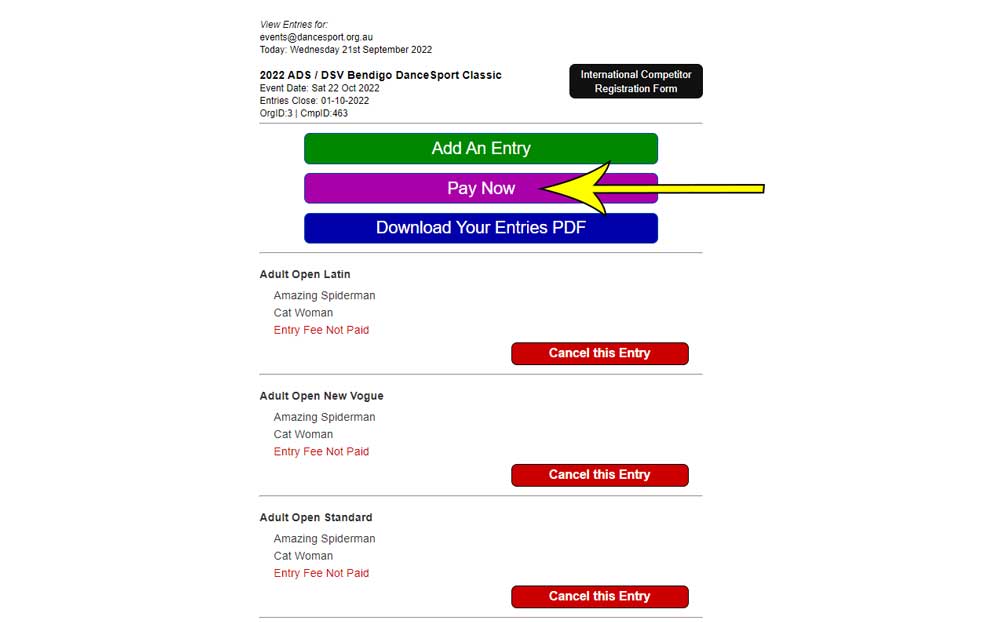 Step 4
Check your entries as displayed.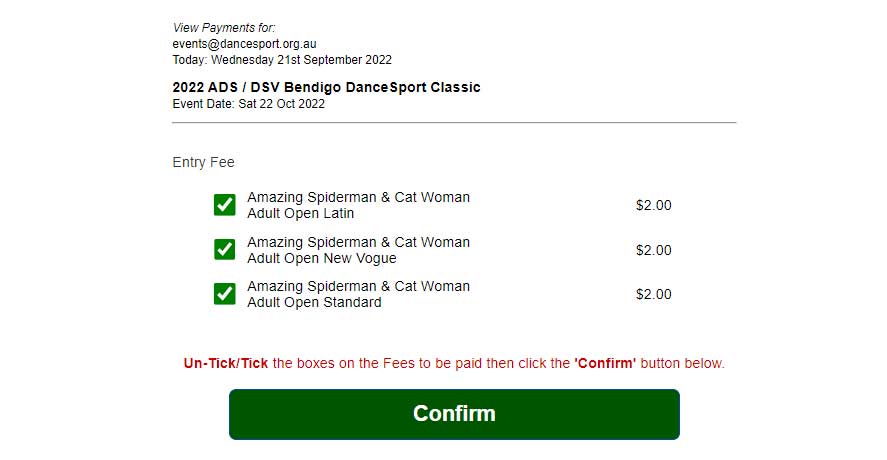 Note: Part payments can be made. You may Un-Tick / Tick the boxes on the entries to be paid if required.

Some competitions may include Competitor Tickets or Admin Fee payments and these will be included on the payment screen if applicable.
*Entries including Competitor Tickets

*Entries including Admin Fees

When ready click the green Confirm button.
Step 5
The total Amount to Pay is displayed and payment is made by clicking the Pay Now button.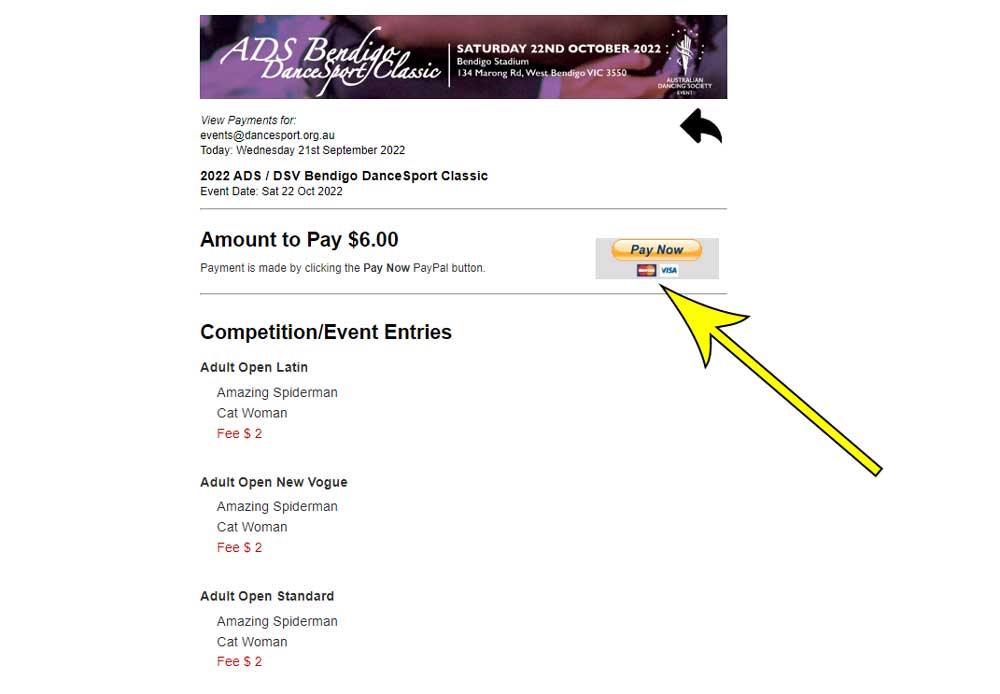 Step 6
This takes you to the PayPal secure payment system. Follow the payment links to complete your payment using your credit card or PayPal account.
Please note that you do not need a PayPal account.
Step 7
Once payment has been received your account is automatically updated and paid entries will be displayed accordingly.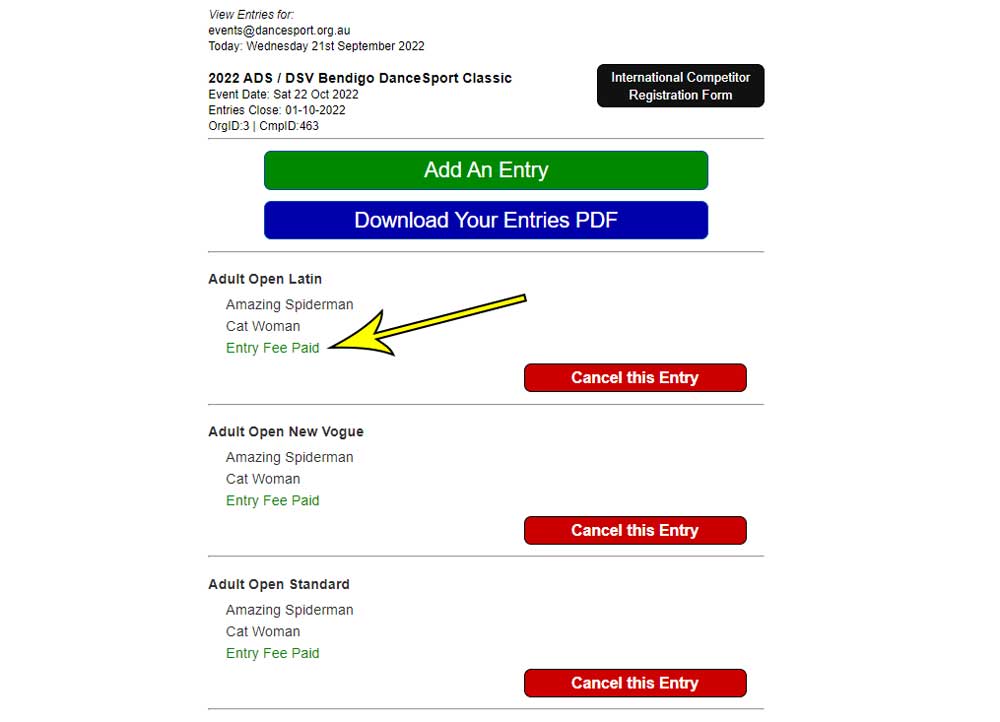 Step 8
If your payment included Competitor Tickets, you will now be able to access your tickets by pressing the Download button. You can choose to download to your device, print, or make a screenshot of your tickets.

Having issues?
If you have problems with your entries and need some help, please contact the DSA Admin Team via email...
Remember to assist our team by providing all relevant information such as your CID number, entry information and the Competition name and date.