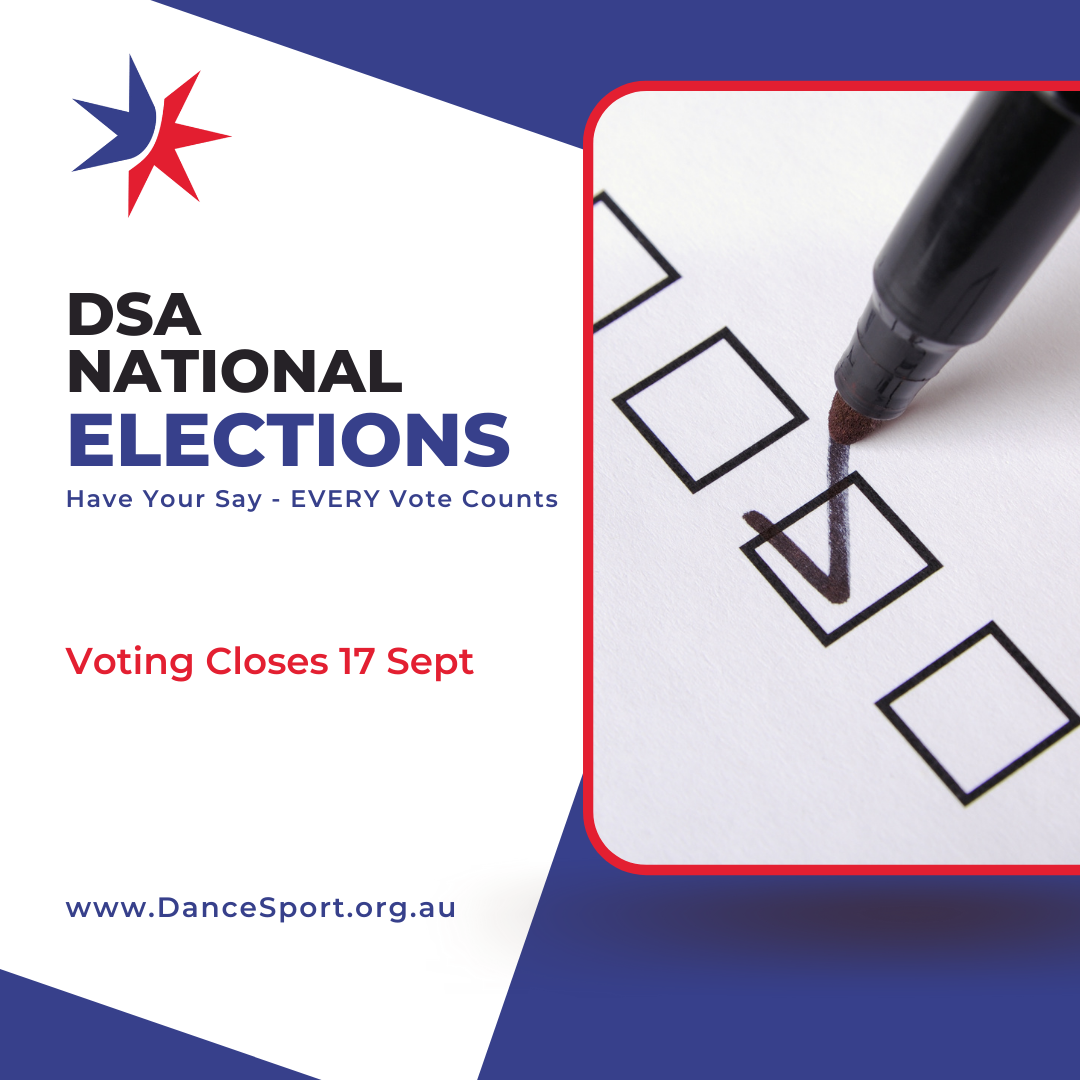 2021 DSA National Election - Voting Re-Opened
Voting has now been re-opened for the DanceSport Australia National Election.
If you had voted prior to 27 August, you will need to re-cast your vote. Unsure whether your vote has been counted? Log in to your DSA Member Account - if the red voting button (shown below) appears at the top of your member home page, you will need to vote again.

For more information about why the Election was restarted, click here.
Revised National Council Election Timeline
9am AEST Monday Aug 30 2021 Voting Opens - All votes will be cast on-line.
5pm AEST Friday 17th Sept - Voting Closes.
Monday 20th Sept - Results of elections to be published on dancesport.org.au
Voting - Eligibility (who may vote)
To be eligible to cast a vote in the National Council election you must;
be 16 years of age or over as recorded by the Member Registry,
be a Full Member of DSA (Ordinary Member, Amateur or Professional Division or an Accredited Member),
have been a Full Member for a minimum of one year, and
be financial before the 1st August 2021.
NOTE: Recreational and Athlete License competitors are NOT Full Members however they may apply for an Ordinary Membership and be eligible to vote in State and National elections provided they meet the above criteria.
Who will be Elected?
The Council will consist of: -
2 Coach Representatives - elected by the registered coaches
2 Competitor Representatives - elected by the Amateur & Professional Division competitors
6 General Member Representatives - elected by the members of DSA
Elected persons will be required to to represent DSA as Company Director and will assume the legal responsibility of a Company Director.
Voting Procedure (how to vote)
The voting procedure is the same as the previous National Council election held two years ago. That is all votes will be cast on-line through your Member Login.
A 'Vote' button will appear in your on-line account and will remain visible for until you cast your vote. That is the system will close at 5pm Friday 17th September. The 'Vote' button will only appear for those Members who meet the eligibility rules shown above.
Voting information and copies of candidates' profiles / election statements is now available to all members in accordance with the registration categories. Members will be required to lodge their votes via their DSA Member Account. The result of the election will be announced upon verification by the Returning Officer and the list of successful candidates will be listed immediately on the DSA website.