To share this news on Facebook click here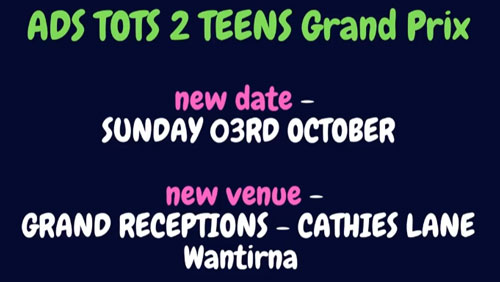 2021 ADS Vic Tots 2 Teens - New Date
Updated 16/8/21
THIRD time lucky Victoria!
Tots 2 Teens Grand Prix has a new date and new venue!
New Date: Sunday 3 October 2021
New Venue: Grand Receptions, Cathies Lane, Wantirna
Updated 3/8/21
Competition is now currently POSTPONED.
Stay tuned for announcement on the new date soon.
Message from the Australian Dancing Society, Vic Branch...
We have some bad, but good news for you in regards to the TOTS 2 TEENS GRAND PRIX!
THE BAD - We have to unfortunately postpone our event!
THE GOOD - We have a new date, Sunday 22nd August!
The ADS Victorian Branch are 100% committed to making sure this most important event for our young Victorian dancers will take place! Unfortunately, with the demographics of our event, we are not able to run our event in sessions.
With the unknown of limitations on venues post lockdown we have no choice but to make the call to postpone, and will now move to Sunday 22nd August.
We are sure you join us in the disappointment in the disruption to the Victorian dance calendar once again, but we are very much looking forward to getting back to the dance competitions and the joy that this event in particular, brings to so many young dancers!
Please stay safe and let's get back into the Studios as soon as you are able and back doing what we all love!
NEW DATE - Sunday 22 August 2021
Here is a link to the original 2021 Tots Blog with the syllabus and all other competition information.