To share this news on Facebook click here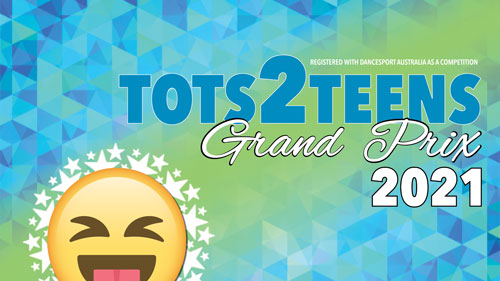 2021 ADS Tots2Teens Grand Prix - Victoria
The 2021 ADS Vic Tots 2 Teens has been postponed due to the latest lockdown in Melbourne.
We have some bad, but good news for you in regards to the TOTS 2 TEENS GRAND PRIX!
THE BAD - We have to unfortunately postpone our event!
THE GOOD - We have a new date, Sunday 22nd August!
NEW DATE - Sunday 22 August 2021
The ADS Victoria branch is proud to present the 2021 Tots2Teens Grand Prix being held on Sunday 20 June 2021 at the Kingston Town Hall in Moorabbin.
This competition is a fabulous day with events for children and teenagers of all ages, Coach/Students events for those wanting to dance with their teacher, and even an opportunity for parents to have some fun in the Parent & Child events.
*Please make sure you have the correct syllabus as this information has been updated. Look for the syllabus with the pink heading as shown below.
Entry closing date has been amended and now close Friday 28 May 2021.
Social Events - These are introductory events for those with limited competition experience. Entry into these events is only available by obtaining a DSA Day Pass. Please ask your Coach or Studio to forward your name to the Competition Orgnaiser to organise your Day Pass.
Competition Information and Ticketing
For all other information including tickets and table seating, please contact the Organisers...
Catherine Saisi email: sassidance@bigpond.com
Fay Studd email: faystudd.ads2@bigpond.com