To share this news on Facebook click here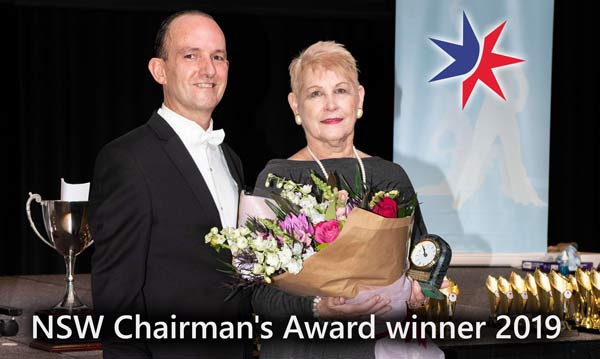 NSW Chairman's Award winner 2019
The Chairman's Award is given to a member of the dancing fraternity and recognises that person's years of service and dedication in the pursuit of excellence within the DanceSport industry.
No one fits the bill more than the 2019 recipient; Carol Kimmins, who was presented with her award by DanceSport NSW Chairman Darren Day.
Carol was on the DanceSport NSW Board for over 19 years and was its chairperson for 14 years before she retired in 2017.
Involvement
During her time as chair, Carol presided over the branch's involvement in:
Child protection training
Juvenile development schemes
The 'Dance Easy' program
Continuing Professional Development scheme
Educational projects for amateurs and professionals
Seminars for coaches and adjudicators
Youth development days
Strategic plans for state branch
State website development and marketing
NSW Open Championships: 14 years
Training and mentoring dance professionals
Carol also served two two-year terms on the DanceSport Australia National Council.
Current commitments
These days Carol is a member of DanceSport Australia's National Accreditation Commission and the accreditation officer for NSW. She has held both roles for more than 15 years.
Successful on the floor
Carol was an accomplished amateur ballroom dancer and won most of the major championships including the Open British Amateur Ballroom Championships in Blackpool, the German Open Championships in 1976 and Australian Championships.
Congratulations to Carol on this very well-deserved award.