To share this news on Facebook click here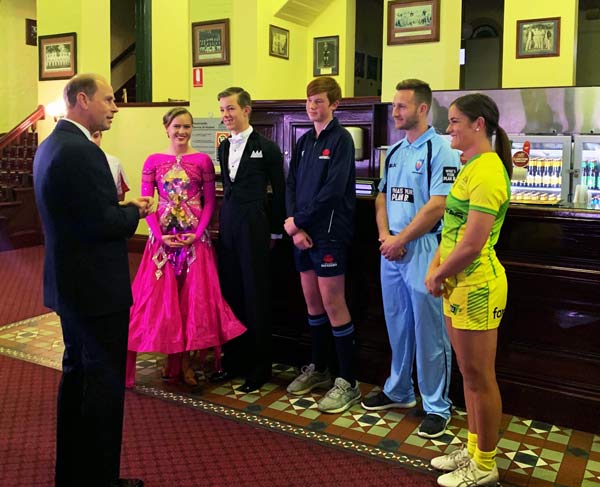 DanceSport receives Duke of Edinburgh International Award
Awarded to NSW youth competitors
Henley Warner and Max Oldham, both 15 years of age, received the international award at the Sydney Cricket Ground on 12 September 2019.
It is the first time competitors from DSA have been recognised in this prestigious award.
DSA was one of six sports to receive the Duke of Edinburgh International Award.
Henley attends Greystanes High School and Max attends Manly Selective in Sydney, and they have only been dancing together for the past 10 months.
Max enjoys dancing as a "great way to be active", whereas Henley "loves the people she meets, the friends she's made and the number of opportunities available.''
Henley and Max started dancing together when, at the end of 2018, they both found themselves without a partner and their coach thought they would be a great match due to their passion and dedication.
Max came through the Dance Confidence program in 2014, doing the Year 5 Challenge with Mona Vale Public School, and has performed at many schools. Now his sister competes, and other family members have also taken to dancing.
Max and Henley compete nationally and have so far achieved:
NSW Open: First in New Vogue U21 and Second in Adult Open
Premiere competition: First in Standard U21
Luna Park: Second Adult Open
Tasmania championship: Second in Standard and New Vogue U21
Crown: Second for New Vogue U21
Such an honour!
"Receiving the award was such an honour to represent our sport which will help younger people get involved" enthused Max.
Henley proudly announced "we are so proud to be a part of such an amazing sport and thrilled that DanceSport is regarded in high esteem".
Available to all 14-24 year olds
The DoE is celebrating its 60th year. To earn an award recipients must learn a skill, improve their physical wellbeing, volunteer in their community and experience a team adventure in a new environment. The category they choose to 'major' in is where they spend double their time.
The Duke of Edinburgh's International Award is available to all 14–24 year olds. The Award comprises three levels, each progressively more challenging
Since 1959 over 775,000 young Australians have taken part.
Gordon Gilkes attended the ceremony with Henley and Max, as the award was nominated via Dance Confidence. Gordon said, "meeting the Prince was a fascinating moment. You are given several protocols around what to say and do. For example, when first introduced you wait until you are spoken to, then bow or curtsey, call him 'your royal highness' and then 'sir' afterwards".
You cannot ask for a picture but can have one taken subtly, and you cannot ask personal questions about the royal family. Selfies are out of the question, as are questions about the corgis or the Queen! Prince Edward was very friendly, disciplined and practiced at putting everyone at ease.
Duke of Edinburgh award: open to dancers
What this means for our dancers is that any of our students, once in high school, can complete their Duke of Edinburgh Bronze, Silver or Gold awards using DanceSport as their chosen sport.
If you would like to know how to apply for this program, through DanceSport please email Gordon Gilkes at gordon@dancesportconfidence.com.