To share this news on Facebook click here
News from the West - State Team and Para Dance
22-01-2018
Western Australian State Team
We are delighted to congratulate the following couples, who have been selected for the State Team. They will receive funding from DSWA and Department of Sport. Congratulations to:
Juvenile
Mathew Ireland & Nikita Harris - Standard, Latin and New Vogue
Junior
Coen Best & Georgia McEvoy - Standard and Latin
Under 21
Lucien Maart & Sabrina Serra - Standard and New Vogue
Tristen Chilman & Ruby Campbell - Latin
Adult
Cameron Rennie & Rochelle Murdoch - Standard and New Vogue
Tristen Chilman & Ruby Campbell - Latin
Masters
Brian Taylor & Katrina Lloyd - Standard
Peter Hegarty & Rona Gartner - New Vogue
Keith Arnel & Juanita Gouveia - Latin
Para Dance Sport Western Australia
Para Dance Sport, formerly known as Wheelchair Dance Sport is a new branch of DanceSport in WA. It involves athletes who are physically impaired in the lower limbs.
Their dance program is almost the same as ours but broader in some ways. Standard covers Waltz, Tango, Viennese Waltz, Slow Foxtrot and Quickstep whilst Latin includes the regular five dances: Samba, Cha Cha, Rumba, Paso Doble and Jive. Naturally New Vogue is not included, however for freestyle/showcase they extend to Hip Hop, Jazz, Cumbia, Salsa and even Ballet.
The history of wheelchair dancing goes back to 1968 when one of the pioneers in Sweden, Els-Britt Larsson used the sport for recreational and rehabilitation purposes. It became popular and in 1975 competitions started in Sweden, growing in international scope throughout Europe.
These days the sport is governed by the IPC (coordinated by World Para Dance) and incorporates the rules of the World Dance Sport Federation (WDSF).
For more history and to get a better feel for Para Dance, check out their world website. It's fascinating!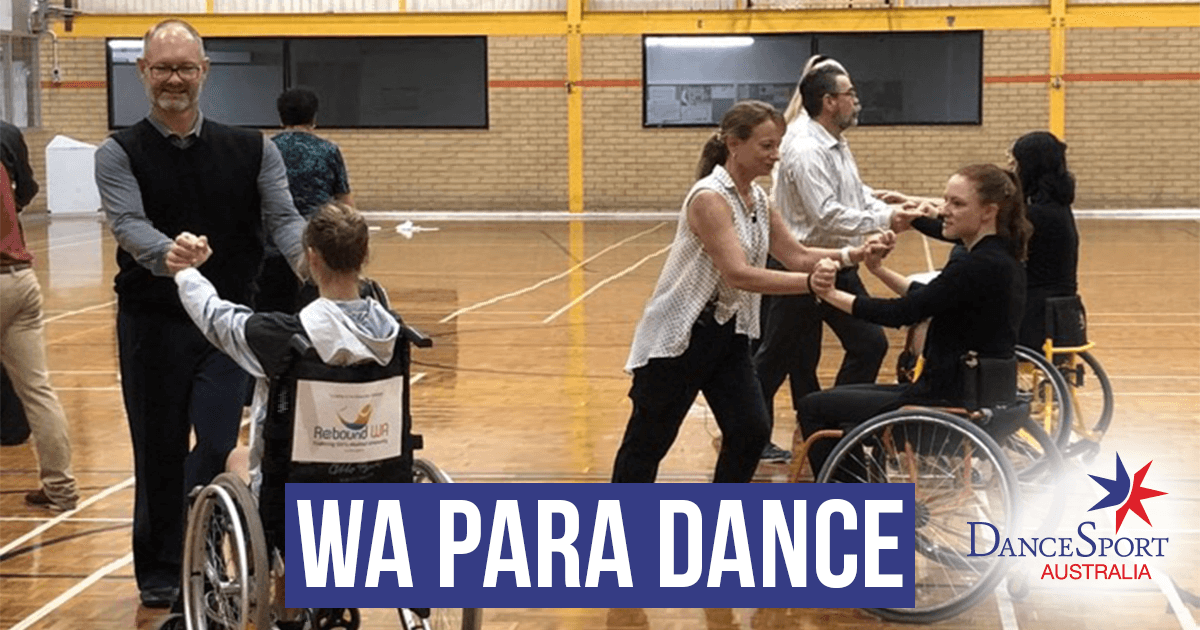 From left to right: Darryl Davenport and Georgia Hunt, Judy Williams and Lauren Chisholm, Peter Hegarty and Chloe Papasergio