To share this news on Facebook click here
Dancing Recreational means dancing strictly restricted syllabus
30-10-2017
It's not just strictly ballroom, it's a restricted syllabus
Recreational events have now been around for three years and provide a safe, fun environment where competitors can get their 'training wheels' before joining the Amateur Division.
Restricted syllabus for Recreational Division
Many teachers, and therefore students, are not aware that there is a strict syllabus for Recreational Division. It is a simpler program but defined, so dancers can focus on technique and basics. Many recreational competitors are unknowingly breaking the rules. It is EXACTLY the same restricted syllabus used in the previous Level 1/E Grade Divisions. Also it is the same syllabus used for Amateur Division Juveniles. For the full list of figures go to here.
Recreational competitors rely on their instructors
Our Recreational competitors rely on you - their instructors - to inform them of the permitted figures and dancing them in the correct holds, timing and amount of turn as specified in the strict syllabus approved by DSA.
As one of Australia's well respected coaches said, "There is no reason why you cannot create an interesting routine given all the figures and variations available".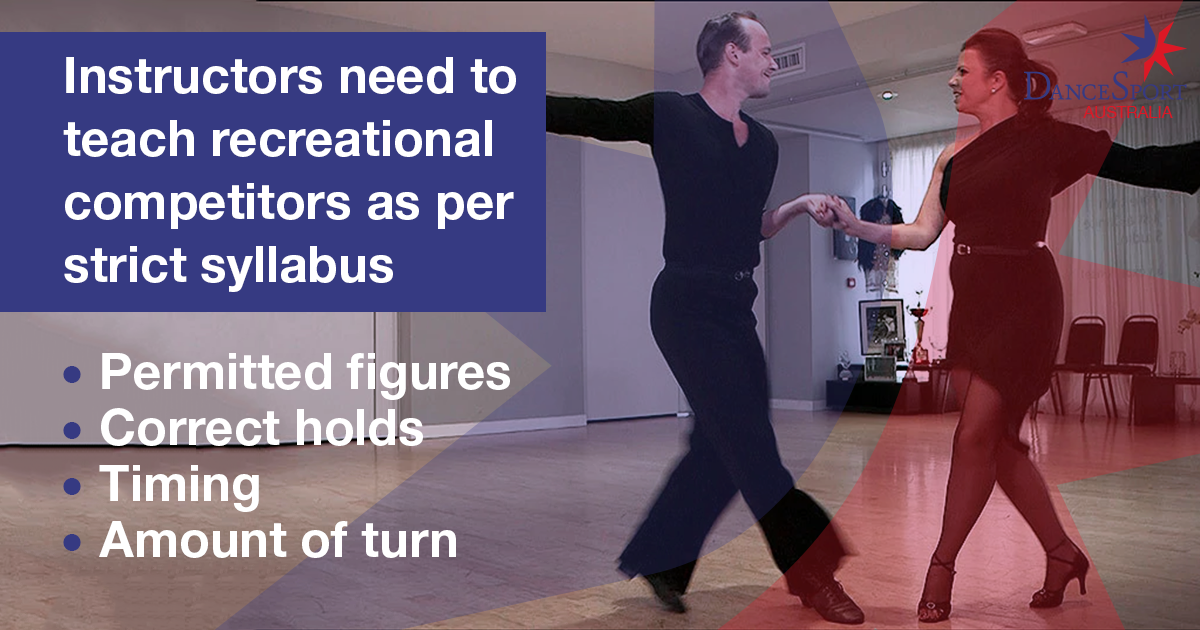 For instance, these are the figures for two of the main events for our Recreational Division:
Recreational Waltz restricted syllabus
Back Whisk
Backward Lock
Basic Weave
Chasse from Promenade Position
Closed Change
Closed Impetus Turn
Closed Telemark
Closed Wing
Contra Check
Cross Hesitation
Double Reverse Spin
Drag Hesitation
Fallaway Reverse and Slip Pivot
Fallaway Whisk
Hover Corte
Left Whisk
Natural Hesitation Change
Natural Spin Turn
Natural Turn
Open Impetus Turn
Open Telemark
Outside Change
Outside Spin
Progressive Chasse to Right
Reverse Corte
Reverse Pivot
Reverse Turn
Turning Lock Left
Turning Lock Right
Weave from Promenade Position
Whisk
Wing
Recreational Cha Cha restricted syllabus
Aida
Alemana
Basic Movements - Closed, Open, In Place
Chase
Cross Basic
Cuban Break - Left Foot, Right Foot, Split
Curl
Fan
Follow My Leader
Foot Changes
Hand to Hand – to Left Side Position, to Right Side Position
Hip Twist Spiral
Hip Twists – Closed, Open, Advanced
Hockey Stick
Natural Opening Out Movement
Natural Top
New York – to Left Side Position, to Right Side Position
Opening Out from Reverse Top
Reverse Top
Rope Spinning
Shoulder to Shoulder – to Right Side, to Left Side
Side Step to Left, to Right
Spiral
Spot Turns – to Right, to Left
Sweetheart
Switch Turns – to Right, to Left
There and Back
Three Cha Cha Cha's
Time Steps
Turkish Towel
Underarm Turns - to Right, to Left