To share this news on Facebook click here
DanceSport World Representative selections 2019
08-06-2019
It is that time of the year again when the DSA Selections Commission invites its Australian World Representatives. This year's first invitations for the WDC Professional and WDSF Amateur World Championships will go to the following couples:
WDC World Professional Standard (Penang, Malaysia 26 November)
Steven Grinsbergs and Rachelle Plaass
Jared Parnell and Ashley Payet
WDC World Professional Latin (Florida, USA 26 October)
Jarryd Byrne and Alarna Donovan
Craig Monley and Sriani Argaet
WDSF World Amateur Standard (Vilnius, Lithuania 30 November)
Brodie Barden and Lana Skrgic-de Fonseka
Andrew Nolo and Sarlote Jakse
WDSF World Amateur Latin (Moscow, Russia 7 September)
Thabang Baloyi and Chang Wan
Brodie Barden and Lana Skrgic-de Fonseka
WDSF World Ten Championship (Location and date to be announced)
Brodie Barden and Lana Skrgic-de Fonseka
For all other age-group World Championships, the age eligibility changes from year to year and not always the same as we do in Australia.
If you are interested in representing Australia at World Championships in any of the age categories below, please contact the DSA Selection Commission Chair, Adam Blakey, at adamblakey@me.com.
WDSF age groups for the year 2019
Age group by year of birth
Juvenile I - 2010 or later Juvenile II - 2008 or 2009 Junior I - 2006 or 2007 Junior II - 2004 or 2005 Youth - 2001, 2002 or 2003 Under 21 - 1999, 2000, 2001, 2002 or 2003
Senior I
One partner must have reached their 35th birthday or more in the calendar year (1984 or before), the other partner must have reached his or her 30th birthday in the calendar year (1989 or before)
Senior II
One partner must have reached their 45th birthday or more in the calendar year (1974 or before), the other partner must have reached his or her 40th birthday in the calendar year (1979 or before)
Senior III
One partner must have reached their 55th birthday or more in the calendar year (1964 or before), the other partner must have reached his or her 50th birthday in the calendar year (1969 or before)
Senior IV
One partner must have reached their 65th birthday or more in the calendar year (1954 or before), the other partner must have reached his or her 60th birthday in the calendar year (1959 or before)
WDSF Championships for the year 2019
This year the following World Championships have been announced for:
Junior II
Standard - 14 December 2019 at Riga, Latvia Latin - 26 October 2019 at Ankara, Turkey 10 Dance - 2 November 2019 at Sibiu, România
Youth
Standard - 23 November 2019 at Timisoara, România Latin - 16 November 2019 at Vienna, Austria 10 Dance - 19 October 2019 at Kiev, Ukraine
Under 21
Standard - 12 October 2019 at Bilbao, Spain Latin - 19 September 2019 at Chengdu, People's Republic of China 10 Dance - 18 May 2019 at Yerevan, Armenia
Senior I
Latin - 5 October 2019 at Ostrava, Czech Republic 10 Dance - 1 June 2019 at Szombathely, Hungry
Senior II
Standard - 5 October 2019 at Toronto, Canada Latin - 8 June 2019 at Kosice, Slovakia
Senior III
Standard - 11 October 2019 at Bilbao, Spain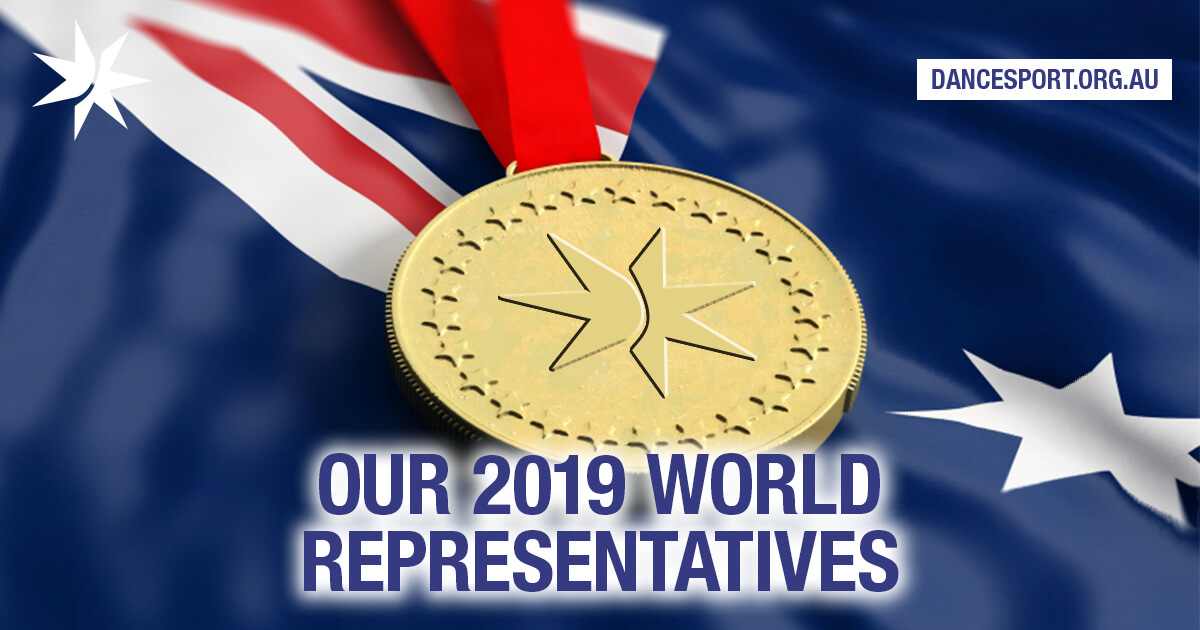 DanceSport World Representative selections 2019