To share this news on Facebook click here
DanceSport and the coming World Games in 2021
15-08-2019
The International World Games Association (IWGA) is a non-government and non-profit-making international organisation constituted under Swiss law.
Having started with 12 sports in 1980, it now comprises 37 international sports federations.
The principal aim of the IWGA is to develop the popularity of the sports it represents, to improve their prominence through excellent achievements, and to conserve all the traditional values of sport through 'The World Games'.
Part of the Olympic movement
The IWGA is an organisation recognised by the International Olympic Committee (IOC). 'The World Games' as a multi-sport event is committed to developing its activities in the Olympic spirit and in conformity with the Olympic Charter. The IOC provides technical assistance and its expertise to help promote 'The World Games'.
The birth
With the forming of the modern Olympic Games in 1896, the IOC became the de facto governing body for international sport.
When international sports further expanded post-World War II, the various international sports federations felt the need to establish a dialogue with the Olympic leaders.
One of the ultimate objectives of almost all these non-Olympic federations was to be included in the IOC.
Olympic yearnings
When it became evident that the growth of the Olympic Games was limited, the sports from this non-Olympic group understood there were minimal opportunities to be selected for participation on the Olympic program.
The non-Olympic federations wanted a profile for their sports so they decided to form their own showcase event, which became The World Games.
In 1979 a small steering group from the non-Olympic federations was formed, with officials exploring options to create the first World Games. For more history.
The next games
The next World Games will be 2021 in Birmingham, Alabama, USA, and will include Latin and Standard along with Rock'n'Roll and Breaking.
The sports
There are six main areas:
Artistic and DanceSports
Ball Sports
Martial Arts
Precision Sports
Strength Sports
Trend Sports
The 37 sports federations in 'The World Games' are:
Aikido
Air Sports
Archery
Baseball - Softball
Billiards Sports
Bodybuilding
Boules Sports
Bowling
Canoe
Casting
DanceSport
Fistball
Floorball
Flying Disc
Gymnastics
Handball
Hockey
Ju-Jitsu
Karate
Kickboxing
Korfball
Lacrosse
Life Saving
Muay Thai
Netball
Orienteering
Powerlifting
Racquetball
Roller Sports
Rugby
Sport Climbing
Squash
Sumo
Surfing
Tug of War
Underwater Sports
Waterski & Wakeboard
Seventh most popular sport
DanceSport (including Salsa, Breaking and Rock'n'Roll) was ranked #7 in popularity – based on ticket sales - at the last World Games in Poland in 2017. The popularity was based on ticket sales. There were 27 different sports that participated and the top 10 included:
American football
Gymnastics
Speedway
Roller sports
Beach handball
Flying disc
DanceSport
Sport climbing
Muay Thai
Korfball
Further information on the World Games in Birmingham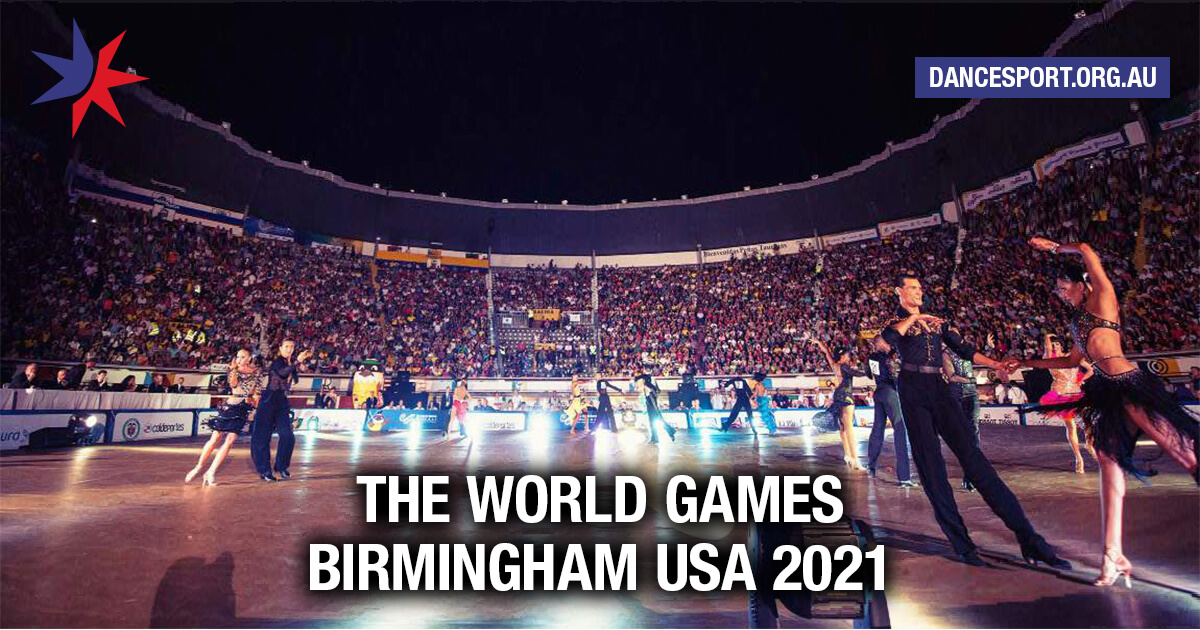 DanceSport and The World Games 2021