To share this news on Facebook click here
President's Message: Success as Recreational dancers advance to Amateur
18-08-2019
The strategy of focusing on developing the grass roots of DanceSport over 2018 and 2019 is working.
Entrant numbers up
The transition from recreational to registered amateurs during this time has increased markedly, with over 500 competitors advancing.
Across the country, the number of recreational events has increased with existing championships attracting more competitive dancers.
In the past, many events were making a loss from a lack of entrants. This, however, is now stabilising and we are able to pull forward as an industry.
Make sure you vote in the national election
The DSA elections, which are pivotal for our future, have been live and online since 1 August. Everyone wants Australian dancing to flourish, and selection of the right board members is crucial to achieving this goal.
Navigating the challenges ahead in the next two years, board members need not only a depth of understanding of the dance industry but also effective business skills. DanceSport Australia needs strong and wise leadership and the full support of its members.
Invite people and welcome new-comers
What your national board wants is for members to continue to invite new students and support newcomers to our unique sport.
While our administration is working to deliver an outstanding marketing and strategic plan, it's up to us to connect with the future participants - those people who respond to the promotions we are putting out to the public.
Three key steps to help grow DanceSport
When you see a new dancer in your studio, introduce yourself and make them feel welcome. Don't leave it to the studio principal to be the only one making an effort. They are often teaching and can't be everywhere at once - find ways to reach out to people and support your studio.
At competitions, talk to someone new, which builds your sense of community and connection with other competitors.
Share with others in your dance school or studio the information you gain about other competitions or events.
We are in this together
Most importantly, the dialogue between us is shifting. Look for opportunities to encourage each other; find the good in the industry; focus on the incredible positives that come from dancing regularly.
What you say is vital, not only for your enjoyment when dancing but the overall health of the industry. Change is with us now, embrace this opportunity and run with it. We all are full of hope for the future; we are in this together.
Yours sincerely
Gordon Gilkes
President DanceSport Australia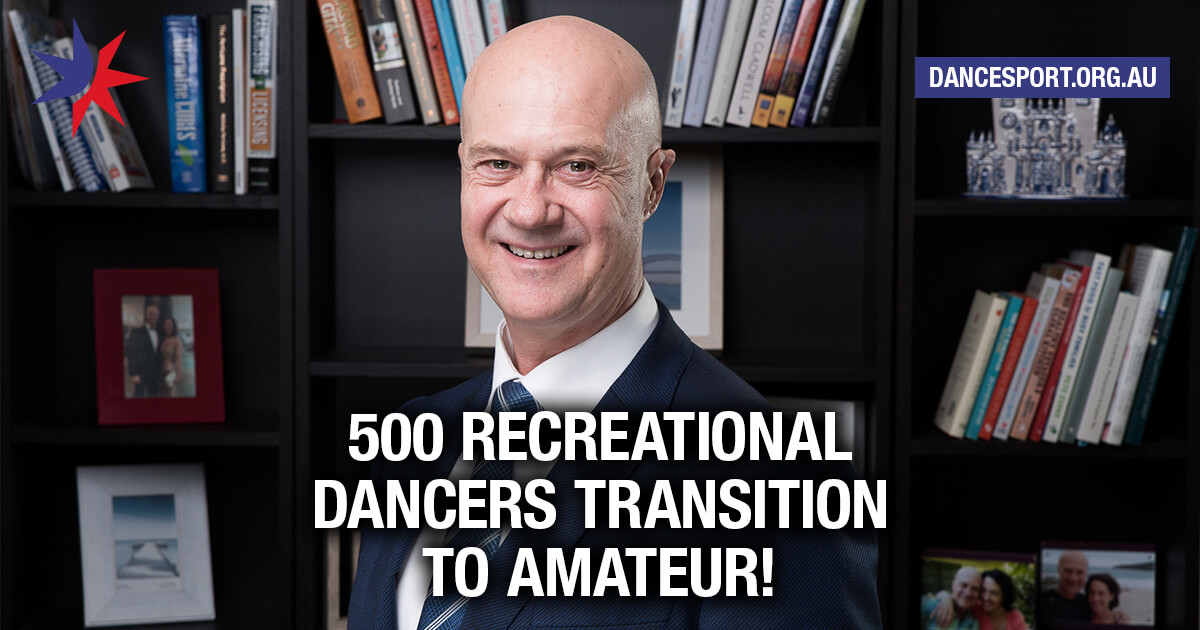 Success as Recreational dancers advance to Amateur