To share this news on Facebook click here
DanceSport in International Special Olympics
07-06-2019
A coup for WDSF
DanceSport has been recognised by Special Olympics International (SOI) as a sport discipline. SOI gives people with intellectual disabilities the chance to compete at an international level.
Disabilities include conditions like Down Syndrome and Autism, which DanceSport supports through various programs and competitions.
DanceSport SA President, Gordon Gilkes, says: "Inclusivity is part of the community's strategic plans, so this recognition of DanceSport by SOI is a critical step forward for our sport.
DanceSport will be affected in three ways:
DanceSport is demonstrating itself to be a modern sport
Government funding will be significantly increased, allowing us to secure more high-quality venues
For DanceSport to gain the recognised Sporting Excellence standards (as per State Government approved ranking system), this opportunity with SOI accesses this high standard."
WDSF signed agreement
This significant agreement was signed with SOI in March 2019 in Abu Dhabi where SOI staged its summer games.
The World DanceSport Federation (WDSF) was represented by its Vice-President for Development Antoni Czyzyk, who co-signed the proclamation with SOI's CEO Mary Davies.
WDSF is now working to be included in the program for the next Special Olympics World Games summer games in Berlin, Germany in 2023.
Summer and winter games
DanceSport participated in a demonstration event in the winter World Games in 2017. SOI alternates its World Games between summer and winter. This summer and winter cycle runs across two years and each of the Games recurs every fourth year.
Recognised by the Olympics
SOI is recognised by the International Olympic Committee (IOC). The IOC also recognises The International Paralympics, but, the Paralympic Games are held in the same year or in conjunction with the Olympic Games (so not in the same year as the Special Olympics World Games summer games).
Changing lives
The Special Olympics provides training and competition in a variety of Olympic-type sports for children and adults with intellectual disabilities. This gives people opportunities to develop fitness, courage and skills while growing physically and emotionally. The Special Olympics is changing the lives of people throughout the world by the power of participating in sport.
Since 1968
The first Special Olympics World Games were held in 1968 in Illinois, USA, with 1,000 athletes from the US and Canada. Dance was first presented as a show discipline in Los Angeles 2015.
It next appeared in 2017 during the Special Olympics World Winter Games - in Graz, Austria. The goal was to make it an official competition sport at future World Games by 2020.
Thanks to the efforts of Dr Pierre Gider, a global adviser for dancing and Chair of DanceSport SO Resources team, dance appeared as a show discipline for the last time at the Special Olympics in Abu Dhabi recently.
From now on DanceSport will be recognised as an official sport discipline within Special Olympics.
Further reading: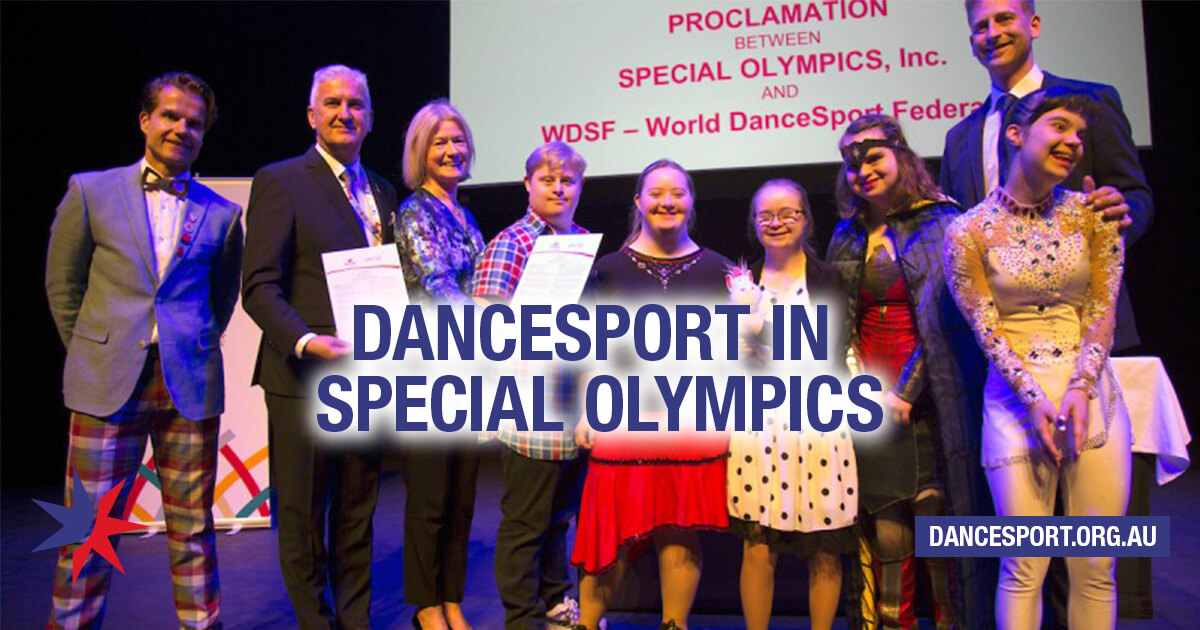 DanceSport in International Special Olympics