To share this news on Facebook click here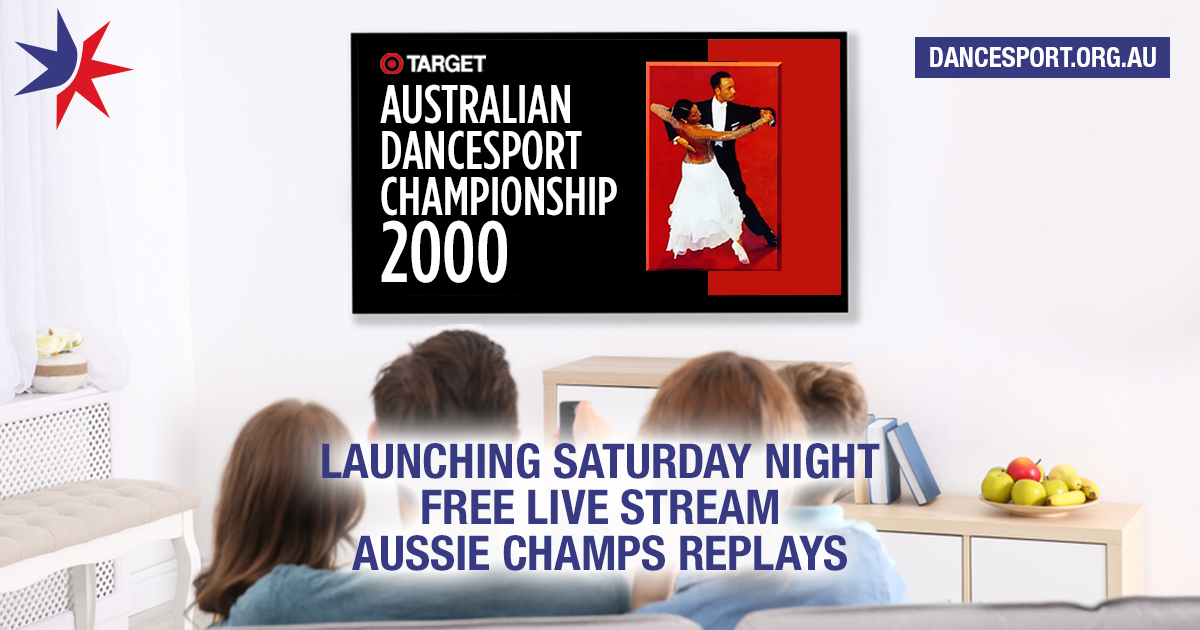 Launching Saturday night free live stream Aussie champs replays
Inspiration is coming your way.
It's all systems go - Saturday at 7:30 pm AEST!
We know you are all missing dancing and we have been looking for ways to lift everyone's spirits and keep us all motivated. From this Saturday night at 7:30pm we will live stream replays of the Australian DanceSport Championships, free of charge! It's on the Internet and you can watch with your phone, tablet, laptop or smart TV!
Just go to dlive.tv/dancesportlive
That's right! DanceSport Australia is rolling out the past 20 years of the Aussies for all of us to enjoy!
We are starting with Aussie champs from the year 2000
The event was held at Hisense Arena, which opened that year, located within the Olympic Park. Look out for dancing stars and champions such as:
Jason Gilkison & Peta Roby
Ann &Paul Wilson
Stefano Olivieri & Karina Schembri
Sharna Burgess
Alarna Donovan
Nathan Meyers & Rachel Jones
David Byrnes & Donna Juncken
Lecia & Darren Putland
Eamon & Anita McGrath (Lilley)
The finalists for the major event can be found here.
Please also enjoy the live band.
Live stream interviews with international DanceSport champions
As a brilliant start to your Saturday nights, between 7:00pm and 7:30pm we are live streaming interviews with champions of DanceSport from all over the world.
The first two special guests will be Italian professional ballroom champions, Valerio Colantoni and Monica Nigro.
Hold an 'Aussie champs Sat night" online party
Stay immersed in dancing and make a night of it. There's never been a better time. Gather your friends and hook up in groups connected online. Pop on a party hat!
Bring out the drinks and nibbles and party
Guess who the winners will be
Relive the glory and we will get through this
If you can access the internet via your smart television, view the Aussies on a big screen.
Then use the computer to set up an online party with your dancing friends using Facebook Messenger, WhatsApp or Zoom.
Better still, invite your non-dancing friends and inspire them.
Until we can get back on the floor, let's all reminisce and enjoy the magic of Aussies past right now, in our own homes.
How and when do you get to the free live stream?
Go to the DanceSport Australia live stream channel
Program starts this Saturday, 18 April at 7:30 pm until isolation is over!
Repeated on Wednesday night
To make sure everyone gets a chance to see the live stream interviews and championships replay, we are repeating the broadcast on Wednesday night at the same time.
Happy viewing : )