To share this news on Facebook click here
Budapest meeting a goldmine for DSA; report from WDSF, AGM in Hungary
17-08-2019
DanceSport Australia (DSA) has two important relationships with key world dance organisations: the WDC (World Dance Council) and the WDSF (World DanceSport Federation).
Report from WDSF AGM in Hungary
Both organisations are valued equally, and supported by DSA's board and our competing couples. This is an enviable position, as many other countries have not been able to navigate the challenges of this carefully structured balancing act.
Our goal is to build a very solid base that attracts participants to the beautiful genres we know as Latin and Ballroom. To reach that goal and provide terrific, well-patronised events in each state, we need several thousand new participants. Our focus has been on further developing the Recreational field, sourcing participants through new genres of dance to reach this objective.
Australia and the World DanceSport Federation
During the WDSF Annual General Meeting (AGM) in Budapest, Hungary, from 8 to 9 June, national councillor Madeleine Zoanetti, CEO Dallas Williams and president Gordon Gilkes conferred regularly prior to each decision that could affect Australia, and did a great job representing DSA as a team. Their main focus was to learn and develop relationships with other countries, gaining insight into how they have grown and the associated problems that come with growing too fast.
Dancing at the Olympics
There is no doubt the Olympics and DanceSport's involvement in the year 2024 is the driving force behind a worldwide shift in enthusiasm and opportunity. In 2018 there was a great deal of concern about the amount of money being spent to get another genre to the Olympic table. Those concerns are now gone - 93 countries have seen the benefits and are now all looking in the same direction.
Through a significant increase in media exposure, a new audience is now being reached and DanceSport is becoming synonymous with a youthful and vibrant culture. The successful world Breaking Championship held in June at Nanjing, China, was this style's first international exposure.
What is the flow-on effect?
Filling stadiums is no longer the real currency in the Olympic world; .it's about the number of eyeballs looking at television, computer and mobile screens and attracting a younger market. Digital media provides an exponential exposure to the youth market. This is where the international marketing dollars go.
For dance to utilise this wave of opportunity it has to start presenting itself differently in order to compete with other emerging modern sports. DanceSport needs to be focused on excellence in marketing.
Special Olympics and Para Dance
Special Olympics and Para Dance have become key initiatives in many countries. Australia is already developing its own events and new opportunities for participation. More details will be forthcoming.
Collaboration with other member countries
DSA spoke to delegates from other areas and came away with this fascinating news:
The French delegates
One of the most interesting connections DSA made was with the delegates of DanceSport France. The delegates told DSA how France took its membership from 4000 ballroom dancers to a staggering 80,000 (includes the broader genres of DanceSport) in the past 10 years.
They focused on what the other dance genre associations were not able to do. This included:
Creating strong relationships with government bodies to streamline compliance
Understanding what the Department of Sport required to:

Reshape their organisation to meet compliance
Become a desirable organisation to work with
When this was in place, the French government then directed other genres applying for assistance to come under the DanceSport banner to seek assistance. This made DanceSport France the platform where any genre could be developed into a recognised sport.
The Japanese delegates
The Japanese were very interested in creating alliances with Australia, which is a very attractive tourist destination for many Asian countries. Japan is particularly keen to explore opportunities for sending Masters couples to future DSA events, and DSA gave the Japanese delegates a calendar of all events held in Australia. There was similar interest from Hong Kong and Taiwan.
The American delegates
The American delegates were most interested in our same-sex dance couple policy and how it was working in Australia. With Australia and the US both in the Oceania group, it was important to establish a connection, especially since it will vote on issues that could affect Australia.
The Netherlands delegates
The Netherlands, which has had wheelchair and special needs participants since 2010, are already familiar with new types of dancers. The delegates expressed an interest in creating a Netherlands Breaking team, and DSA presented to assist with this. Key points presented included:
How important it is to all work together
Need for Breaking to be seen as a culture as well as a sport
How real growth happens when recognised as a sport
Getting formal recognition by the AOC and other sporting organisations
World Rock'n'Roll Association
Delegates from the World Rock'n'Roll Association were keen to speak with us about Australian Rock'n'Roll with a view to being included in DSA's championships.
The Medical Commission
The Commission was interested in Australia's concussion policy, since Australia is the only country (out of 95) to have a comprehensive policy in place. The Commission was introduced to Dr Nigel Hope, an Australian surgeon and dancer who is doing research around sporting injuries, particularly in relation to DanceSport.
Innovative judging criteria and software
Dallas Williams oversaw a demonstration of his newly-designed software for use by judges for Breaking. It features innovative, cutting-edge technology and is another example of Dallas' significant contribution to the dance world. DSA is lucky to have him as its CEO.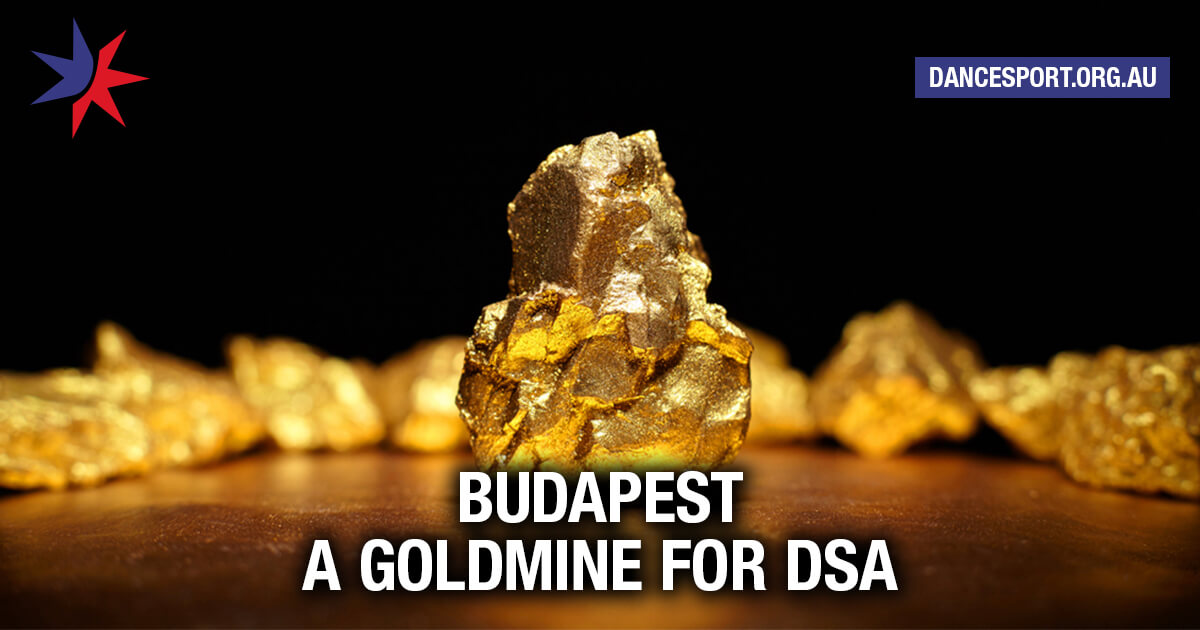 Budapest meeting a goldmine for DSA