To share this news on Facebook click here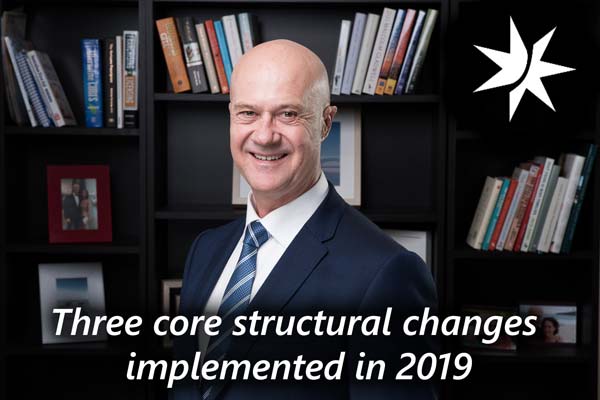 President's Message: Three core structural changes implemented in 2019
President's Message
Three core structural changes implemented in the past year have propelled DanceSport into one of the emerging sports of the 21st century.
Stability
The first change was to create stability in how DanceSport functions.
In the past we always seemed to be working to respond to issues that had already happened. The board is now taking a proactive, progressive approach, accomplished through improved relationships between board members. Each councillor's opinion is valued and heard, and each councillor is empowered and trusted to do their job. We have seen faster, more streamlined decision making, where considered opinions are heard and voted upon without unnecessary debate. This has freed our hands to strongly focus on our future development, and this has delivered good results.
New CEO
The second structural change was to make Dallas Williams our Chief Executive Officer. Under Dallas' direction we have moved forward and embraced new technology that makes us the envy of any sporting organisation in the world.
Innovations – such as online event registrations and the way we vote in our elections – have saved us time and money. Dallas was given significant key performance indicators and has met them all.
Strategic planning
The third primary change was to take a fresh look at our industry through the strategic planning meeting held in Queensland in April. New thinking and creative ideas are not easy to put in place; it takes time to develop these ideas and develop trust in one other as a team. When that is accomplished, we can have frank discussions and thoughts on how to move forward.
The strategic planning meeting delivered clarity to all who attended. We saw the industry from a new perspective and, by having each attendee commit to a task, started to work towards our goals. It is pleasing to note that on each task progress has been made.
A Positive Mindset
To change an industry requires changing a mindset. We started with a very negative base from our members and industry. In their minds, DanceSport was the centre of all that was wrong with the industry and was responsible for the declining number of dancers and events.
Through our collective leadership this has been turned around; there is more hope for the future, and this is gathering momentum. The initiatives of streamlined accreditation, more communication through the DSA newsletters, marketing initiatives and RTF newsletters have all been well received.
Through the transparency of our decisions and the increased visibility through programs like Active April, development competitions, school student registrations, the 2024 Olympics, ParaDance, Special Olympics and the inclusion of the Duke of Edinburgh Award sports program, we are enjoying a wave of popularity. This, however, must be utilised and further developed.
Through dedicated focus and hard work, the current board has cleaned up many of the outstanding issues from the past and laid the foundation for the newly-appointed board to continue its ground-breaking work.
It has been a great honour to serve as President of DanceSport Australia. I greatly appreciate the trust and support you have given me. Learning to lead a national organisation has been a great challenge; no-one can teach you what to expect and I truly appreciate the opportunity.
Yours sincerely,
Gordon Gilkes
President DanceSport Australia