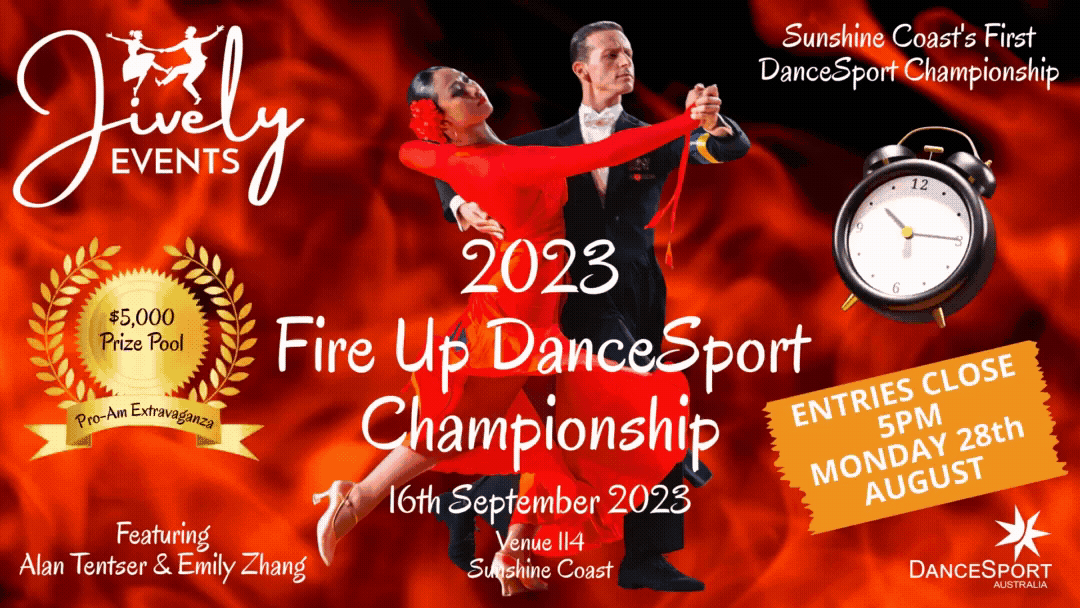 Jively Events Update: 2023 Fire Up DanceSport Championship
We are thrilled to share breaking news that will set your hearts racing with excitement! The 2023 Fire Up DanceSport Championship is shaping up to be an unforgettable event, and we can't wait for you to be a part of it. Here's the latest scoop:
Event Updates:
Entries Close: 5pm, Monday 28th August 2023
Keep reading for more on the updates, exciting announcements, and surprises as we gear up for the 2023 Fire Up DanceSport Championship!

Unveiling our Pro/Am Extravaganza

Picture yourself under the spotlight, the rhythm coursing through your veins, as you share the dance floor with your professional partner. That's the thrill that awaits you in the Pro/Am Open Extravaganza events. With three scintillating categories – Standard, New Vogue, and Latin – you're invited to showcase your expertise, express your artistry, and compete for dazzling cash prizes totaling over $5000! This is your chance to shine brighter than ever before and prove your mettle as a DanceSport Pro/Am Champion.
10 Brand New Events By Demand!
Join us in celebrating the art of synchrony with our new Synchro Showcase events. Curate your own Synchro routine to your music and showcase your choreography and artistic prowess.
And that's not all – we're excited to introduce extra dances in the U16 & Adult Synchro and Solo events to help showcase all the dances you are mastering.
Meet Our New Accommodation Partner
To make your dance experience even more remarkable, we've partnered with the luxurious Mercure Sunshine Coast Kawana Waters. As a valued supporter of Jively Events, you can enjoy an exclusive accommodation special for the duration of the 2023 Fire Up DanceSport Championship.
Immerse yourself in comfort and convenience just moments away from the event venue. To avail this offer, simply use the booking code "JIVELY" when making your reservation via phone or email.
Your dance weekend deserves the perfect stay, and we're excited to enhance your experience with this fantastic accommodation opportunity right near the venue.
Phone: 07-5334 9500
Email: stay@mercurekawanawaters.com.au
We're thrilled to bring you an exciting update about the upcoming Jively Fire Up Workshop – a chance for you to take your dance skills to new heights! Prepare to be amazed as we introduce a dynamic addition to our lineup.
Joining our renowned dance champions Alan Tentser and Emily Zhang is the incredibly talented Brodie Barden. With his exceptional skills in the Latin style, Brodie will bring a fresh perspective and expert insights to the workshop. His passion and expertise in the world of Latin dance will undoubtedly enrich your learning experience, making this workshop a must-attend for dancers of all levels.
Alan and Emily will also be leading an in-depth lecture in the Standard style. Drawing from their years of experience and mastery, they'll unravel the intricacies of Standard dancing. Their lecture promises to provide invaluable techniques, styling tips, and performance-enhancing secrets that will elevate your dancing to new levels.
This hands-on opportunity to learn directly from these dance champions and interact with them will be an enriching experience. So, don't forget to bring your dance shoes and get ready to immerse yourself in a transformative learning journey.
Join us on the Friday night before the event at 7 pm!
We know that was a huge update but just remember
Entries Close in:
Ending: 5pm 28th August 2023.
2023 Fire Up DanceSport Championship
Saturday 16th September 2023
Venue 114
114 Sportsmans Parade, Bokarina QLD 4575
If you want to guarantee the best seat in the house, reserved seating is the way to go. We are offering:
Front Row Seats:
For those who want to be as close to the action as possible, we are offering a limited number of front row seats. These floor side seats offer an unobstructed view of all the action. Be quick, front row seats are limited!
Table Seats:
We also have a limited number of table seating available for groups who want to sit together and enjoy a more intimate experience with a great view of the floor. Table seats will go fast, so make sure to reserve yours today!
For reserved seating orders book online or contact our team on 07 52278770 or events@jively.com.au