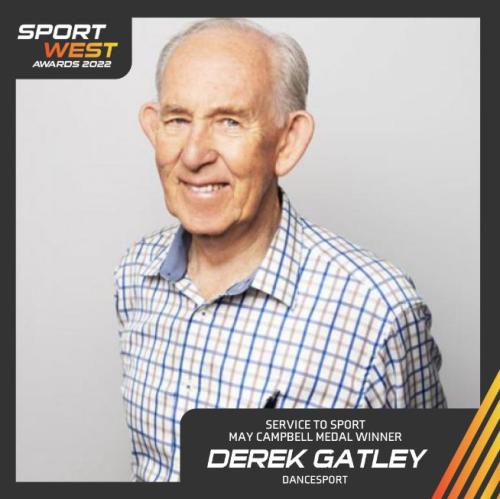 Sports West Awards - Derek Gatley OAM
Almost two centuries of commitment to WA sport set to be honoured
SportWest has announced three new recipients of the May Campbell Medal ahead of the 2022 SportWest Awards to be presented at Optus Stadium on Thursday 23 February 2023.
Sandra O'Keefe (Calisthenics), Derek Gatley (DanceSport, Ballroom Dancing) and Ian Toy (Lacrosse) will be honoured at Western Australia's most prestigious sports awards, having contributed almost 200 combined years to their respective sports in the WA community.
SportWest CEO, Matt Fulton is in awe of the dedication our winners have to their sport. "It is people like Sandra, Ian and Derek, that are the heart of Community Sport, dedicating so much time and passion to the sport they love, inspiring the younger generations as they go. Very worthy recipients of the May Campbell Medal"
The Service to Sport – May Campbell Medal seeks to recognise the contribution made by an individual to sport or their sporting organisation through long and outstanding service.
Sandra has been a stalwart of Calisthenics in WA and has more than 60 years' experience as a participant and administrator at both the local and state level. Due to Sandra's outstanding contributions as a volunteer, Sandra has achieved many accolades over the years including; 2005 Life Membership Hills District Calisthenics Club, 2008 Life Membership Calisthenic Association of WA, 2016 Australian Calisthenics Federation Volunteer of the Year Award and Australian Calisthenics Federation Life Membership Award.
Derek has had a connection to DanceSport since he started as a participant and competitor in the 1950s. During this time Derek has served the National and State bodies of DanceSport as Chair of the Rules Commission, Chair of the Selection Committee, Chief Executive Officer, and Chief Financial Officer. Gatley has announced his pending retirement from his National Duties but will continue to offer his extensive knowledge to the WA State branch.
Ian Toy is a champion for Lacrosse, not only in WA, but Australia. He has shown a commitment to lacrosse as both a player and administrator. Ian established the Wanneroo Joondalup Lacrosse Club and was a driving force behind the establishment of the Subiaco Lacrosse Club and continues his service with roles at Lacrosse WA.
For more information
Please contact SportWest Communications Manager, Bronte Vause via email at brontevause@sportwest.com.au or Member and Partnerships Manager, Matt Bamford via email at mattbamford@sportwest.com.au