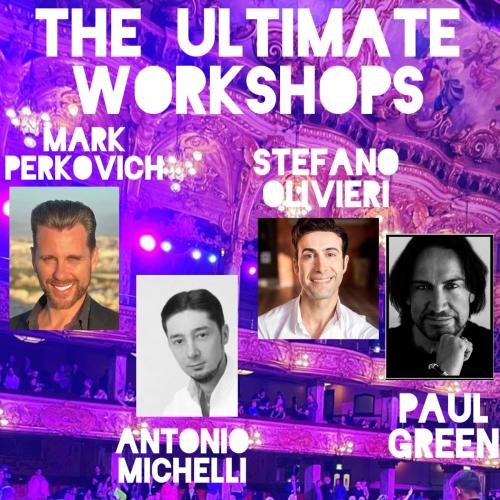 Queensland Ultimate Challenge Workshops
Queensland Ultimate Challenge Workshop Series: Elevate Your Dance Game
Are you passionate about dance and eager to enhance your skills on the dance floor? The Queensland Ultimate Challenge Workshop Series is here to help you take your dance journey to new heights! Join us for a day of workshops featuring some of the most celebrated and accomplished dance professionals, and get ready to step up your dance game.
Event Details:
Venue: Grange Community Hall, 187 Wilston Road, Newmarket
Date: Saturday 2 December 2023
Time: 1:30 pm – 5:00 pm
Cost: $30 per workshop or $90 for all four workshops
Light refreshments: Join us for light refreshments following the workshops
Workshop Schedule:
Stefano Olivieri (New Vogue) - 1:30 pm Stefano Olivieri, the owner and director of DanceXS, Australia's largest ballroom dancing studio, is an industry icon with an impressive list of accolades. He's a 13-time Australian Professional Dancesport Champion, a 2-time winner of Dancing With The Stars NZ (2007 & 2008), and the 2004 IDSF World Champion. Stefano is a seasoned performer, both on and off the stage, and his workshop is bound to be an exhilarating experience.
Mark Perkovich (Smooth) - 2:15 pm Mark Perkovich boasts two world championship titles and numerous national and international titles in Latin and Ballroom, Smooth, and New Vogue. He's a 3-time Australian Champion, US 10 Dance Champion, South Pacific Professional Champion, and more. Mark's expertise promises to elevate your skills and provide invaluable insights into the world of dance.
Antonio Micheli (Ballroom) - 3:00 pm Antonio Micheli, an Australian Professional Standard Champion and 3-time undefeated Australian Amateur Standard Champion, brings a wealth of experience to the workshop. He has trained numerous champions and has judged dance competitions worldwide. Join Antonio to refine your Ballroom dancing techniques.
Paul Green (Latin) - 3:45 pm Paul Green's list of achievements is extensive, including being a World 10 Dance Champion and a 7-time undefeated Australian Latin Champion. He is renowned as a world-class lecturer and teacher, with experience teaching in countries around the world. Attend his workshop to master the art of Latin dance.
Don't miss this incredible opportunity to learn from some of the best in the dance industry. Whether you're a beginner looking to improve your skills or an experienced dancer wanting to refine your technique, this workshop series offers something for everyone.
To secure your spot at the Queensland Ultimate Challenge Workshop Series, visit our website Ultimate Workshops | Queensland Ultimate (qldultimatechallenge.wixsite.com) and register today. Seats are limited, so be sure to reserve your spot and prepare to dance your way to success!