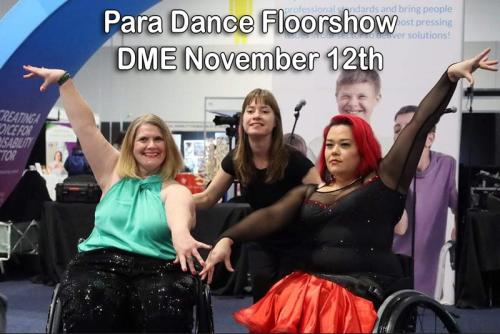 Para Dance Floorshow - DME November 12th
On the 12th of November at the Dance Move Engage Champions of the Future event, we will be treated to a ParaDance floorshow!
Para dance sport is an extremely elegant, graceful and stylish sport which involves athletes with a physical impairment that affects the lower limbs.
It is officially recognized as a Paralympic sport. Participants can perform in Combi style, dancing with a standing partner, Duo for two wheelchair users together and Single for solo performance.
Para Dance Sport was developed in Sweden in 1968 for recreational and rehabilitation purposes. The first World Championships took place in Japan in 1998. Today the sport is widely practiced in 30 countries all around the World.
Standard (or Ballroom) dances include Waltz, Tango, Viennese Waltz, Slow Foxtrot and Quickstep.
Latin American dances include Samba, Cha-Cha-Cha, Rumba, Pasodoble and Jive.
Freestyle/Showdance can include any style (folk, hip hop, latin, standard, ballet, contemporary, salsa, Argentine tango, burlesque, belly dance etc.).
We are thrilled to see the inception of ParaDance here in Sydney! The show will be at approximately 1.30pm at Roselea Community Centre, Carlingford.
Our dancers will be Susan Wood, Rachael Presdee and Glenn Hulkes.
Happy Dancing!