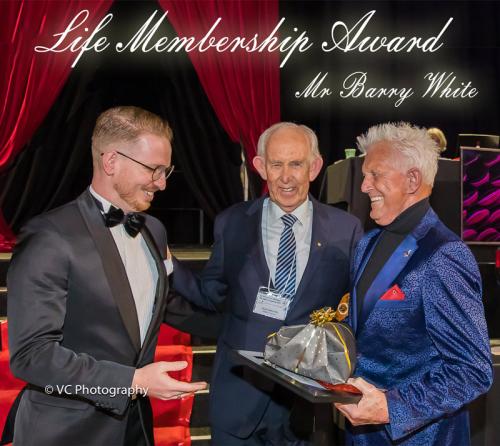 Life Membership - Mr Barry White
At the 2023 WA Open DanceSport Championship, Mr. Barry White was presented with a Life Membership of DanceSport Australia for 50 years of service to DanceSport. Barry has given his time freely for both State and National DanceSport organisations.
Presenting the award was Mr. Adam Penn:
Commencing his dancing life at 15 years of age in Bunbury in the south of WA, Barry worked his way through his medals working with both Clive & Anne Dorney and Ken & Nancy Norris, moving into competition, travelling from the Bunbury to Perth nearly every week for extra lessons and competitions, joining numerous other dancers for the track north to Grealdton & further south to Albany.
He has been a studio principal for more than 20 years, with Bunbury Dance a business proprietor in Perth for some 25 years, with Terrace Central Hotel, a sponsor of DanceSport both in WA and .throughout Australia along with holding executive portfolios around the nation. Barry has been at the top of the executive tree in DanceSport, having recently retired from the Presidency of DanceSport Australia.
It is my privilege to ask Derek & Brodie to present Barry with the Honourary Life Membership of DanceSport Australia.