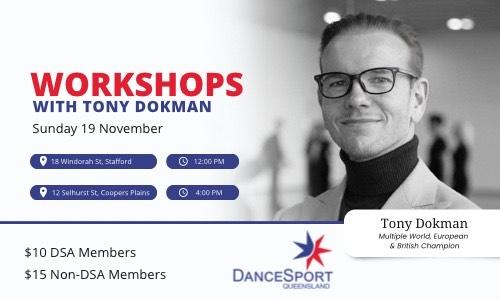 DSQ Workshop Series 19th November - Tony Dokman
DanceSport Queensland is excited to welcome Tony Dokman to Brisbane for two exclusive workshops this November.

Tony is a British, World and European finalist and coaches many world champions. He also organises world class events and has co-ordinated elite dance camps.

Tony will be preenting two workshops accross two locations on Sunday 19 November, providing multiple opportunities for everyone to attend:
12pm - 18 Windorah Street, Stafford
4pm - 12 Selhurst Street , Coopers Plains

DSQ is pleased to offer a discounted rate for DSA Members

DSA Members - $10 per person
Non DSA Member - $15 per person

You can pre register for either workshop by contacting DSQ Treasurer, Denise Telfer on 0407 785 711 or by emailing denise.telfer1@gmail.com. Please note you will also be able to pay at the door.

We hope everyone will enjoy the opportunity to learn from a World Class Internationalchampion, who will provide valuable assistance in preparing for the upcoming Austalian DanceSport Championship.