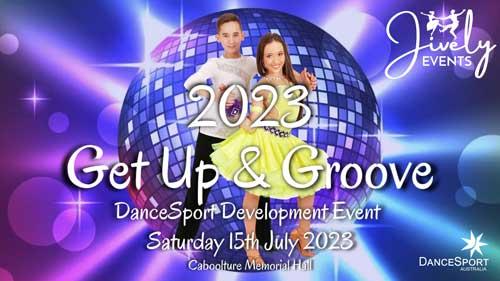 2023 Jively Get Up Groove Development Event
We officially invite you to attend the...
2023 Get Up & Groove DanceSport Development Event
Date: Saturday 15th July 2023
Venue:Caboolture Memorial Hall
Address: 65/61 King St, Caboolture QLD 4510
This new DanceSport Development Event is designed to assist all dancers develop their skills at all levels, try new dances and genres needed for upcoming events and help new competitors get started.
This fun filled event uses a new schedule of events designed to give every competitor the ultimate and most flexible chance to dance!
To help support new competitors we have opened applications for free DSA Daypasses for any new first time dancers that would like to enter any U16 or Recreational or Coach Student events! We are also excited to announce our brand new "Social Events" For the first time giving U13, U9 & U6 Dancers that have never competed before have their own special events! For more information about DSA Day & Social Passes please see below.
To keep the fun flowing every person attending the event is invited to dress up in "Disco" themed fancy dress. We will have prizes for the best dressed!
Don't miss our amazing early birds discounts for both spectators and competitors until 9th June 2023.
We have included lots of important information below about the event so you can make the most of this amazing event:
We truly appreciate your continued support for Jively Events and look forward to having you join us for this fun filled event.
Sincerely,
Jively Events Team
Quick Links
Early Bird Specials!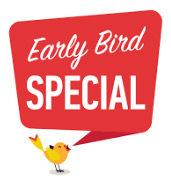 At Jively Events, we believe in showing appreciation for our loyal supporters. That's why we're excited to offer special early bird discounts for both spectators and competitors. Don't miss out on these amazing deals, available until Friday, June 9th, 2023.
Ending in:
Ending: Midnight 9th June 2023.
Reserved Seating
If you want to guarantee the best seat in the house, reserved seating is the way to go. We are offering:
Front Row Seats:
For those who want to be as close to the action as possible, we are offering a limited number of front row seats. These floor side seats offer an unobstructed view of all the action. Be quick, front row seats are limited!
Table Seats:
We also have a limited number of table seating available for groups who want to sit together and enjoy a more intimate experience with a great view of the floor. Table seats will go fast, so make sure to reserve yours today!
For reserved seating orders book online or contact our team on 07 52278770 or events@jively.com.au
Click here for the DSA Spectator Ticket System
Schedule Of Events
At Jively Events, we're dedicated to providing the ultimate dance experience for all competitors. That's why we've crafted a schedule of events that offers maximum flexibility and opportunity for everyone. In addition to our popular Open-to-all, family, and novelty events, we're excited to introduce Recreational Solo Events, Social Events, and our All Abilities Events.
Free DSA Day & Social Passes!
We're excited to announce that thanks to our partnership with DanceSport Australia, we're able to offer free DSA Daypasses for any new first-time dancers who want to enter any U16, Recreational, or Coach Student events.
Social Passes are specifically for our social events that are designed for first time dancers in the U13, U9 & U6 age groups so they can get experience on the competition floor.
To take advantage of this opportunity, please fill out your application below. Applications can be submitted by parents & coaches.
For more information please contact our team on 0752278770
Fancy Dress Event! Theme: Disco!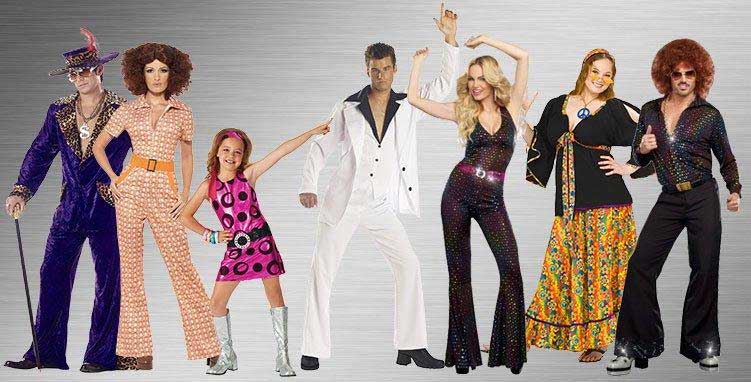 In addition to our dance competitions, we also have some fun and exciting activities planned to add to the overall event experience. For example, we will be holding raffles where you can win amazing prizes, as well as prizes for the best fancy dress, and our parent and child events. These events are a great way to add some extra fun and excitement to the competition and also a chance to win some great prizes!
Ps. don't worry about getting hungry, we have a cafe onsite to make sure you are well catered for food and refreshments.
Jively Lane
Jively Lane is the perfect destination for all your dance needs! This designated shopping area, specifically for dance vendors, offers a wide variety of dance shoes, costumes, and accessories for you to choose from. If you're a vendor and would like to have your products featured in Jively Lane, please email our team at events@jively.com.au
Sponsors
We are always looking for event sponsors to help make our events even more amazing. If you're interested in becoming a sponsor, please email us events@jively.com.au to discuss packages. Your support will be greatly appreciated and you will be helping us to continue providing an outstanding experience for our competitors, attendees and vendors.
Please feel free to contact us if you need any assistance and we look forward to seeing you at the event!