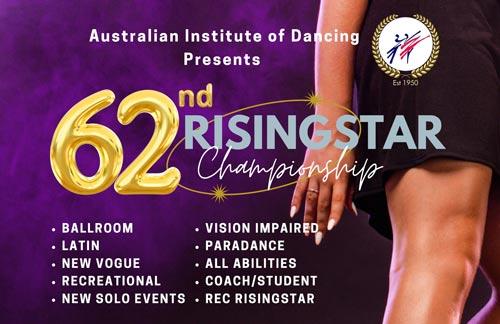 2023 AID Rising Star Championship
The Australian Institute of Dancing would like to welcome you to the 62nd Rising Star Championships.
The Rising Star Championship is one of the longest continuously running events in Australia, operating uninterrupted for the past 60 years, even through a pandemic. It is an event steeped with history, not only having a proud tradition as a home of excellent dancing, but by its very name, an event that promotes up and coming Champions, or 'Rising Stars'.
We are happy to once again be including Recreational and U16 Rising Star events in our Syllabus. These events feature Recreational and U16 competitors being judged individually, able to be partnered by any DSA member (Recreational, Amateur, Professional), either accredited or unaccredited. Competitors in these events are restricted to DSA Approved Syllabus and Recreational Costuming Rules.
Also included as a new addition to our syllabus of events are the solo events. Enormously popular across the world, these events are intended for competitors to compete without a partner - providing dancers with another way to participate in competition Ballroom Dancing. We have introduced these events for Juveniles and Juniors, with Juveniles being restricted in syllabus and costuming and Juniors unrestricted.
Entry tickets are being offered at an early bird discount until 23/07 and can be purchase online here: buytickets.at/aiddance
The online entry portal for this event is now open and competitors in all categories can put their entries through here: https://dancesport.org.au/entry/start.php?comp=578
We look forward to welcoming you on the 6th of July at The Star Ballroom, Rockingham, for the 62nd AID Rising Star Championship.
Happy Dancing!