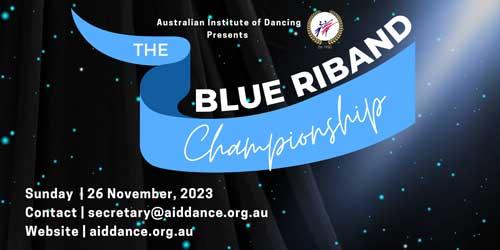 2023 AID Blue Riband Championship - Entries now open!
The Australian Institute of Dancing is very pleased to welcome you to the Blue Riband Championship.
In what is sure to be a fantastic day of competition Ballroom Dancing, we look forward to welcoming you to Dancezone WA, 51 Rockingham Road, Hamilton Hill on Sunday the 26th of November. This event is a part of the DSWA rankings and will contribute to the ranking scores for DSWA Open competitors.
Entries for this event can be made on the DanceSport website (dancesport.org.au). We are very pleased to announce that we have partnered with DSA to offer all new competitors to DSA events a free Recreational or U16 registration for the remainder of 2023. For details on how to apply for this free registration please contact the AID.
We are once again offering discounted, early bird tickets to this event. These tickets are available online until the 12th of November and can be purchased here: buytickets.at/aiddance
Event enquiries are best made to our President, Steven Grinbergs, on email (secretary@aiddance.org.au)
or phone (0403 143 501)
DSA Entry System: Press here to enter!