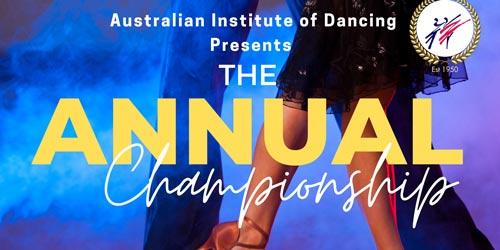 2023 AID Annual Championship - Entries Now Open!
The Australian Institute of Dancing (AID) welcomes you to the AID Annual Championship. First held in 1951, this is one of Australia's oldest Ballroom Dancing events.
For the first time ever this event will be held in the Dickinson Centre, in the grounds of Scotch College, Swanbourne. A fantastic venue, complete with state-of-the-art audio-visual equipment, it is a venue worthy of the great traditions of the Annual.
Date: Saturday 25 March 2023
The event will feature a full day-time session of events and then a selection of Open Amateur Finals, as well as Pro-Am events, will feature in the competition's gala evening.
Our formal night-time session will feature a fabulous 3 course meal, with full drinks package, and competitors who feature in the event will be lucky enough to be dancing to the live music of Phil Hatton and the South Perth Lion's Band.
Competitor's with a Day-Only ticket who are successful in qualifying for an event in the evening will be offered complimentary admission to the night time session, however they will not be provided with a seat or meal.
Tickets for the event can be purchased here: https://buytickets.at/aiddance
This event is registered with DanceSport Australia and all entries can be made via the DSA On-Line Entry System, with the exception of competitors in the Pro-Am section who can enter directly with the organiser at secretary@aiddance.org.au
Entries Close: 4 March 2023
Discounts are available to Professionals who are qualified members with the AID. For more information please contact the organisers directly.
Contact: secretary@aiddance.org.au
Website: aiddance.org.au