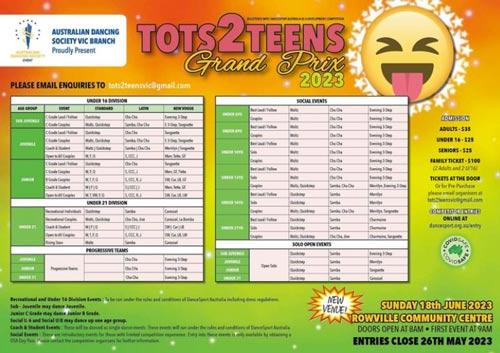 2023 ADS Vic Tots 2 Teens Grand Prix
It is once again time for one of Victoria's most loved competitions. It is also an extra special year for the Tots to Teens Grand Prix as it turns 25 years old!
We have a full range of events including Under 16, Under 21, Social, Coach/Student and, of course Progressive Teams events!
Entries are now open and tickets are available to pre purchase by contacting the competition organiser Meagen Alderton by emailing- tots2teensvic@gmail.com
We can't wait to welcome you to the Rowville Community Centre on Sunday 18th June 2023 for the 25th Anniversary of the Tots to Teens Grand Prix!
Social Events
A DSA Social Pass is required to enter all Social events.
These are introductory events for those with limited competition experience. Entry into these events is only available by obtaining a DSA Social Pass.
Please contact the competition organisers for further information.
Email: tots2teensvic@gmail.com
Entries
All entries and Entry Fee payments are via the DSA Entry System
Entrires close: 26th May 2023
Syllabus Download
Press here to view and download the syllabus