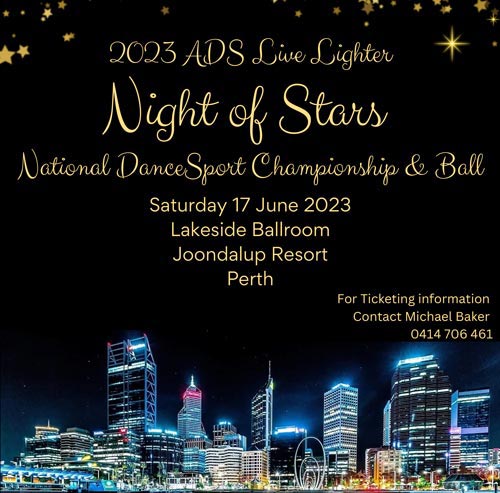 2023 ADS Live Lighter Night of Stars
The ADS Western Australia branch is proud to present the 2023 ADS Live Lighter Night of Stars National DanceSport Championship & Ball. This event will be held on Saturday 17 June 2023 at the Lakeside Ballroom, Joondalup Resort, Perth.
Download your Syllabus - Press here!
Entries:
All entries and Entry Fee payments via the DSA Entry System.
Entries are not valid until payment of Entry Fees has been made.
The Night of Stars National Championship attracts a $5.00 entry fee per event, of which $2.00 is DanceSport Australia's Administration Fee. This fee must be paid online at the time of entering the event. NOTE: Your entry will not be registered, nor will a back number be allocated until the entry fee is paid.
Entries close COB Friday 13th May 2023. At the organizer's discretion, if a late entry is accepted a LATE ENTRY FEE of $35.00 per event will be charged and payable when collecting your back number.
Conditions of Entry:
This Event is a National Championship registered with DanceSport Australia. It is a ranking event and run in accordance with the rules of DanceSport Australia.
Competitors must dance in their own age group and grade, with the exception that Under 21 Open couples may dance Adult Open events
Under 16 Junior & Juvenile "1st Year Registered" These events are for those competitors who are in their 1st year of being Registered with DanceSport Australia. This applies to either member of the partnership.
All Recreation competitors are to abide by DSA dress code and restricted syllabus rules. The organizers reserve the right to cancel or combine events that have less than three entries at the close off date.
Competitors can only enter the marshalling area to marshal for their event. Adjudicators, coaches, and parents are not permitted into the marshalling area. Coaching is not permitted on the sidelines by adjudicators or coaches. This behavior does not comply with the sporting Code of Conduct or the DSA Adjudicators Code of Conduct. There is no exception to this.
Tickets and Accommodation:
Championship Ball Tickets
$185.00 per guest
As per Joondalup's Terms & Conditions, strictly tables of 10 guest per table
Ticket includes:
Day and Evening Admission
3 course Meal
Seating is reserved for the evening program only.
Contact Michael Baker - Mikeb1105@live.com.au
General Tickets
$85.00 Competitor Day/Night entry, (standing room ONLY during the evening)
$55.00 Adult Day Session $55.00
$30.00 Junior U/16 Day Session $30.00
$25.00 Pensioner Day Admission $25.00
Companion Card accepted during the day session
Purchase on the day or in advance through Michael Baker
Accommodation
2023 ADS Night of Stars National DanceSport Championship Accommodation can be arranged by contacting the Joondalup Resort directly on 08 9400 8888