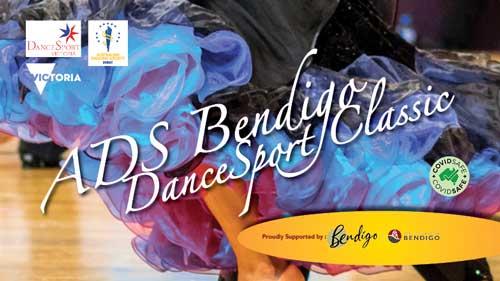 2023 ADS Bendigo DanceSport Classic
Bendigo is less than 2 hours from Melbourne and the Bendigo DanceSport Classic has become an important event on the Victorian dance calendar. The City of Greater Bendigo has plenty of tourist attractions for those who choose to stay overnight on the Saturday night and with the first event taking the floor at 10.00AM on the Saturday, and it makes for an enjoyable weekend away.
The competition is run jointly by the Australian Dancing Society (Vic Branch) and DanceSport Victoria and offers a full range of events from Social through to Open events in all styles and age brackets. Coach / Student events have been included and Solo and Duo / Trio events in the Under 16 Division.
The day will commence with the Under 16 Division and will then follow with Amateur events – Under 16 results will be announced early in the afternoon for those who wish to travel back – but we encourage families to stay in Bendigo and enjoy all that Bendigo has to offer on the Sunday.
Admission prices have been kept low and table seating is available around the massive dance floor – remember this is a basketball stadium so please ensure heel grips are included when you pack as we need to be conscious of the Stadium requirements and protect their floor.
As a lead up to the ADS Australian Championships it is an excellent opportunity to compete on a large dance floor (approximately the same size as the floor at Nova) – the dance sheet is in Studios and now on both the ADS and DSA websites – contact Max or Jean Baker for any further information.
Entries & Syllabus Information
Entries via the DSA Entry System.
Please remember to pay the Entry Fees via the DSA Entry System to validate your entries.
Entry Fees must be paid by the entry closing date to validate the entries.
Entries close: 1 October 2023.