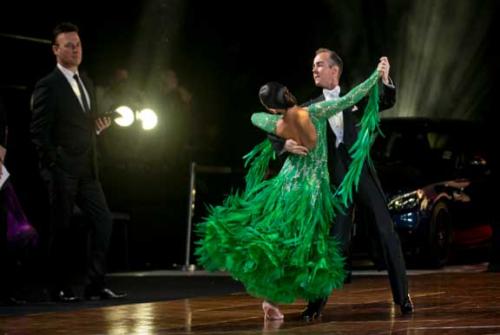 Why have more than One Adjudicator?
Whist the opinion of one qualified Adjudicator is highly respected, DanceSport competitions use multiple Adjudicators to judge events to broaden the scope of opinions and reduce any perceived bias factors.
It would be rare that all Adjudicators agree on the order in which the couples are to be placed, very rare in fact.
There are many reasons for this such as a personal preference to importance of the various aspects of a couple's performance. You should also take into account that the Adjudicators are spread around the dance floor and do not see the performance of the couples from the same perspective
DanceSport competitions utilise the Skating System rules to determine the results of an event. These rules are much like the parliamentary voting system and are based on the fundamental basis that a result is obtained once a majority has been reached.
The majority rules work to protect couples from variations in marks similarly to other scoring systems which remove the highest and lowest scores. Hence if one adjudicator placed you last but the majority placed you first then you win the competition.
A simple example is shown below.

Check Couple 123... they received marks ranging from 1st to 6th place. However, the majority of adjudicators marked them 1st and therefore they won that dance.
This is a simple example, but it's often lot more complicated. Hence the reason why the Skating system consists of 11 rules to cover all situations.
Like to find out more about the Skating System?
Please click here to learn the basics… Scurtineering 101