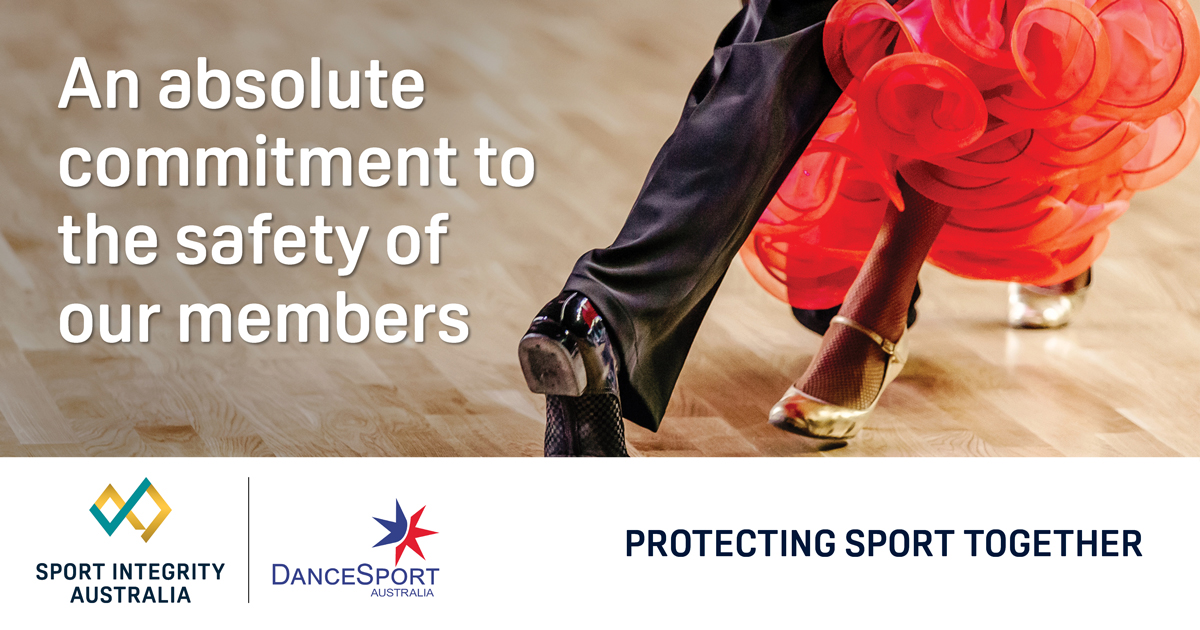 The National Integrity Framework - What This Means For You
DanceSport Australia has partnered with Sport Integrity Australia by adopting the National Integrity Framework, which commenced on 1 January 2022.
Video: Introducing the National Integrity Framework
DanceSport Australia endeavours to provide a safe, fair, and healthy environment for our participants at all levels and the National Integrity Framework has been designed to help us achieve this. The suite of policies within the Framework can be found on our website here and include:
National Integrity Framework
Member Protection Policy
Child Safeguarding Policy
Competition Manipulation and Sport Wagering Policy
Improper Use of Drugs and Medicine Policy
Complaints, Disputes and Discipline Policy
As part of the Framework, we have opted-in to Sport Integrity Australia's independent complaints handling process which allows all complaints in relation to integrity-related Prohibited Conduct, to be assessed and processed independently by Sport Integrity Australia.
What do you need to know?
All participants in the sport are bound by this Framework. This includes general members, competitors, coaches, adjudicators, employees, support personnel and volunteers. Everyone should familiarise themselves with the National Integrity Framework and in particular the Prohibited Conduct contained within each policy.
Fact Sheet: What Is Prohibited Conduct?
How do I submit a complaint?
Anyone can submit a complaint. If you think someone has breached the National Integrity Framework in our sport, you can report your concern or lodge a complaint directly through Sport Integrity Australia's website.
Complaints Process: Step by Step
For more information, please visit Sport Integrity Australia's website, or contact DanceSport Australia's National Integrity Manager.
Sport Integrity Australia Website
DSA Integrity Manager: Riana Morellini
Email: gensec@dancesport.org.au
Phone: 0407 760 246