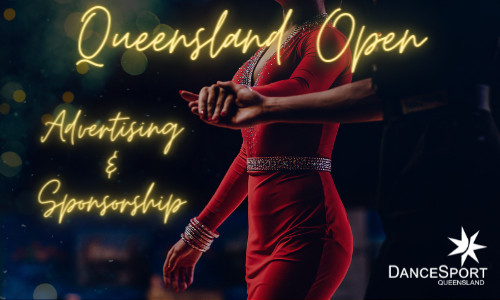 Sponsorship & Advertising Opportunities - 2022 Queensland Open
Who wouldn't want to advertise at the biggest competition Queensland DanceSport has to offer?
DanceSport Queensland committee is offering advertising deals for all studios and businesses that would like to contribute to the success of DanceSport in Queensland. Advertising helps DanceSport Queensland continue to bring to the DanceSport community the prestigious and fantastic competitions that everyone is used to. Get your studio or business known to the community at the largest competition that Queensland has to offer!

If you are a long time supporter or even new to Dancesport, sponsorships deals are available to businesses interested in sponsoring different events in the prestigious Sunday evening session. Sponsorship deals can be discussed on enquiry.
If you know of a business that could do with exposure at a fantastic large event, please get them to contact DanceSport Queensland to organize one of our amazing packages - exec.qld@dancesport.org.au. All event sponsorship will have exposure at the venue as well as over the weekend and online.
There is no better way to show your support of DanceSport in Queensland.