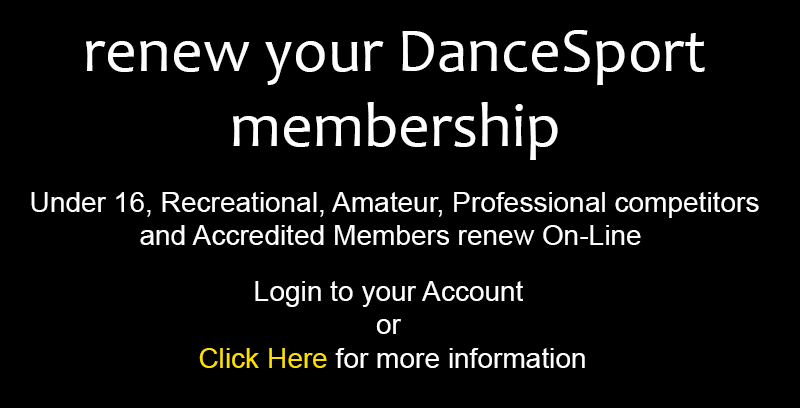 Renew Online for 2023
DanceSport Australia Membership renewals are now open for the 2023 calendar year.
DanceSport Australia has many dedicated hard-working people focused on delivering a vision for DanceSport here in this country. This vision takes many forms and it is easy to forget that DanceSport Australia is a non-for-profit organisation that relies on its members and volunteers. It is the Members that democratically run this organisation and as a Member of DanceSport Australia, you are the "life blood" of our sport.
How to Renew
DanceSport Australia Membership renewals are due on 1st January annually.
Renewals are completed online via your DSA Member account. If you require any assistance with your login, please contact the Admin Team.
For Members paying before 1 January 2023, please login and look for the red 'Pay 2023 Membership Fee' button, located bottom of page on your phone, or upper right of screen on your PC.

As from 1 January 2023, a 'Payment Required' page will display automatically once you login. Then simply follow the payment prompts.
Click here for instructions of how to renew for 2023
Registration Fees for 2023
The pricing structure for all fees has remained the same as 2022.
There have been NO increases applied to any fees for 2023.
Click here to view Registration Fees for 2023
Note the RTF fee has been deleted due to the retirement of the Registered Teaching Facility Scheme.
DSA Receipts
For anyone who requires a receipt for tax purposes, you can download an official receipt of payment by clicking the DSA Receipts icon in your account.

Need help?
If you require any further assistance, please contact our Admin Team.