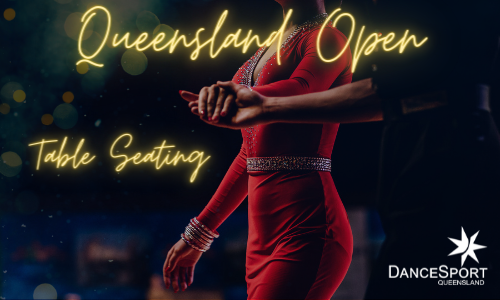 Queensland Open Table Seating Now Available
What a amazing start we have had to the competition season with record number of events held at the A.D.S. Crystal Classic on the 12th March! It sure is shaping up to be a big year for Queensland Dancesport.

The next event to be held in Queensland is the Queensland Open Championships. This will be held at the Chandler Arena on the weekend of the 23rd and 24th April. This promises to be a fantastic weekend of dance where the best of our state and the country will compete for honours. After last year's success at the same venue the DSQ Committee is pulling out all stops to make this an event not to be missed!

For the opportunity to have the best seats in the house, table seating is available. These can be organized by contacting Denise Telfer 0407 785 711 or email denise.telfer1@gmail.com. Table seats are 10 to a table and we allocate seats by studios and preferences made.
Saturday tickets are $400 per table or $40 per single person.
Sunday table tickets are $500 per table or $50 per single person.
Table seats are always the best way to watch a competition. By having your friends and fellow studio members in the same vicinity you can all enjoy the weekend from floor side seats with the best view in the house and it's a great place to be able to cheer your favourite couples on.
Tickets for tables are first in first served and are limited. So please if you would like to book a table please contact Denise as soon as possible. Table seats will sell out and we don't want you to miss out!