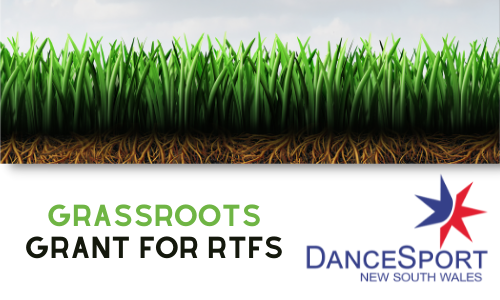 Grassroots Sport Fund for DSNSW
We have exciting news!
DanceSport NSW has been working closely with the Office of Sport over the past few months to secure several grants. One of these grants is the Grassroots Sports Fund. The chief objective of this grant is to provide support to sporting clubs and associations (which means our RTFs) in recovering from COVID-19 restrictions and returning to community sport.
Up to $1,000 is available to eligible RTFs. Funding received through the Grassroots Sports Fund will assist studios with fixed costs, irrecoverable costs incurred throughout the COVID-19 pandemic and returning to dance costs as restrictions ease across the state.
Every RTF has been contacted with information on how to register for this funding. We are thankful we have the facilities to support our RTFs and help them get back on their feet after what has been a difficult and compromising time for dancers and studios. For clarity, an eligible RTF is one that was financial as at October 2021 AND is financial as at 31 March 2022.
Please remember RTFs that your applications close on the 31st of March! If you have any questions feel free to get in touch.
Happy Dancing!