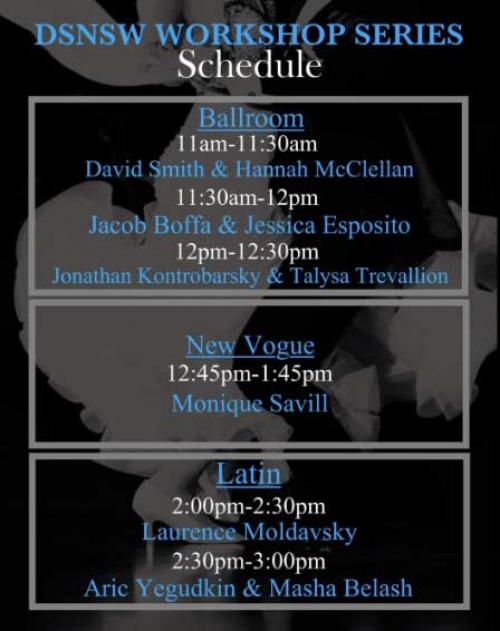 DSNSW Workshop Series July 24th - Monique Savill
Our New Vogue presenter for our workshop Series on the 24th of July is Monique Savill. Read on for a little insight into Monique's dancing....
Starting her dancing journey in Wagga, Monique is a highly versatile dancer in both the ballroom and theatrical worlds.
Prior to moving to Melbourne, Monique was a youth open new vogue finalist and won the IDO Australian jazz and contemporary world representative.
In 2012 Monique made the decision to move to Melbourne for full time dance training at Jason Coleman's Ministry of dance. Leading to a professional dance career in Melbourne as a performer, choreographer, studio proprietor and competitor. Some credits include: Australia's Got Talent, Comedy Festival Opening, Virgin Australia AFL, choreographer for Jason Coleman's Ministry of Dance Full-Time course showcase, opening of QLD Open Championship at Jupiter's Casino, and a number of corporate and professional shows around Australia and Asia.
In 2013, Monique decided to reignite her passion for DanceSport and commenced her competitive career in Melbourne with Crawford. Within their 7 year career Monique and Crawford were 2 x Australian Amateur Open New Vogue Champions (2017/2018), 2015 New Zealand National Amateur Open New Vogue champions and undefeated open state and national champions for over 5 years.
In 2019, they were Australian Professional New Vogue and Standard finalists alongside Crown, Victorian, Outside Change and Wollongong National Professional New Vogue Champions. Since then, Monique has found her calling as a teacher and lecturer around the country.
Monique believes strongly in finding what is unique about you, believing in it and exploiting it as the foundation to success. If you don't have passion and a belief in what you're doing, you have nothing.
This event is FREE for all financial DSA members, and $20 for non members.
Register for this event online via the DSA entry portal. Any further enquiries can be directed to the following
exec.nsw@dancesport.org.au
Happy Dancing!