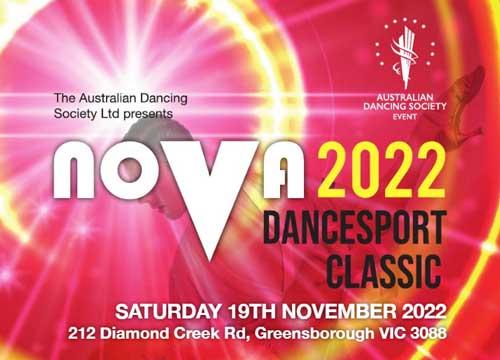 2022 ADS Nova DanceSport Classic - New Update
Update - Entries extended and Sub Juv events added
(29 October 2022)
Extra events added for Sub-Juvenile Open Couples...
SUB-JUVENILE OPEN Couples

Standard - W,T,F,Q

Latin - S,C,R,J

New Vogue - Swing Waltz, Charmaine, Tangoette, Carousel
Entry close date extended...
Due to all of the changes we have decided to extend the closing date to be:
Thurs 3rd Nov 8.00 pm
To ensure all have the opportunity to utilise this last practise in preparation to ADSC.
---
Update - Syllabus Changes (27 October 2022)
As we draw closer to the Nova DanceSport Classic I'm pleased to announce that entries are looking good and we thank you all for your support so far.
I would like to advise that we have tried to align dances closely with the upcoming ADSC and as such have some adjustments to update you with. This is in relation to the following events:
· Under 21 C Grade
· Masters 1 C Grade
· Recreational Events
Please click here to check the updated Syllabus information.
Our aim is to create an Event to accommodate all competitors and align dances where possible to assist all.
For those who have already entered... please ensure to check your entries and make any adjustments as required.
Please note entries are open until 30th October.
For any assistance please don't hesitate to reach out.
Maria Pople
0419 302 674
---
The Australian Dancing Society Ltd proudly presents Nova 2022 DanceSport Classic and we warmly welcome you to join us for a wonderful day of dancing. To be held on Saturday 19th November at St Sava Hall, 212 Diamond Creek Road, Greensborough.
Boasting a large dance floor for competitors with the convenience of canteen facilities available throughout the day for all to enjoy.
A comprehensive program of events to accomodate all categories with doors set to open at 8.30 am in preparation for a 9.00 am commencement.
Entries closing 30th October.
Please join us for an excellent day in preparation of the lead up to the Australian DanceSport Championship.
We look forward to welcoming you on the day.
For any queries please contact Adam Blakey or Maria Pople
Entries & Entry Fees
Entries are now open!
All entries and Entry Fee payments via the DSA On-Line Entry System
Please note that Entry Fees must be paid to validate your entry.
Entries close: 30 October 2022
Event Sessions
The competition will be conducted in sessions.
Session times to be announced closer the the competition date.
Syllabus Download
Click here for the syllabus of events.