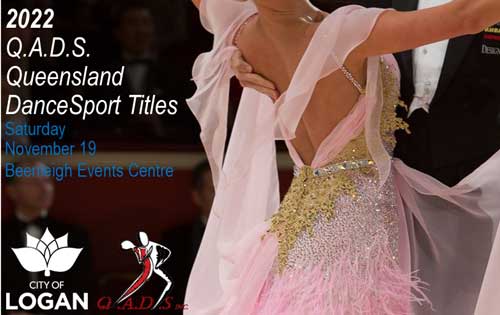 2022 QADS Queensland DanceSport Titles
The Queensland Associated Dance Studios Inc. (QADS) is pleased to invite you to the Beenleigh Events Centre, Cnr Kent & Crete Streets, Beenleigh to host this years' Queensland DanceSport Titles.
You will enjoy a modern air-conditioned venue with a fantastic new parquetry dance floor. There is free underground car parking plus ample off-street parking as well. Bar & kiosk facilities will be available on the day.
It is conveniently located midway between Brisbane and the Gold Coast, just off the M1 in the centre of Beenleigh.
We will also be continuing the tradition of supporting our amateurs and professionals with lucky draw vouchers for dance lessons. All registered competitors at this competition will have their names included in the draw for a chance to win $100 worth of dance lessons from their studio professional.
Doors open 8.30am. First event 9.30am
Session 1 – Under 16, all Pro/Coach Student, Coach/Rec & Under 16 Pro/Am & Under 16 Synchro events.
Session 2 – U21, Adult, Masters & Over 16 Pro/Am & Synchro events. Starting time will depend on entries.
Syllabus Download available here
Entries, Competitor Admission and Entry Fee Payments...
All entries, Competitor Admission Tickets and Entry Fee payments are via the DSA Entry System
Entries close: Tuesday 1 November 2022
A Late Fee of $5 per event will apply after this date.
Spectator Tickets...
All Spectator tickets are availble via the DSA Spectator Ticket System
For all enquries please contact...
Michael Bishop - 0428 117 282 - mjbishop@bigpond.com
Patricia Heidke - 0412 308 641 - trish@heidkedance.com.au
Judy Wilson - 0435 549 282 - finance@qads.org.au