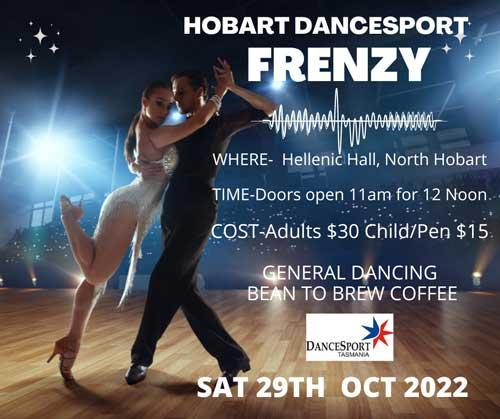 2022 Hobart DanceSport Frenzy
Entries are now open for the 2022 Hobart DanceSport Frenzy to be held on Saturday 29 October at the Hellenic Hall, North Hobart.
Events for all ages in the Amateur, Recreational and Under 16 Divisions have been offered including Novelty events for Studio Teams, All Abilities and Parent & Child.
Doors open 11am
First event 12 noon
There will be plenty of general dancing throughout the day.
Bean To Brew coffee van will be available.
For all enquiries please contact Marilyne Jackson (Mazza) on 0412 205 597
Entries and Competitor Entry Fees
All Entries and Entry Fee payments via the DSA Entry System.
Event entry fees apply. Please make sure payments are confirmed when placing entries online.
Entries close: 15 October 2022
Syllabus Download
Please press here to download your syllabus and competition information.