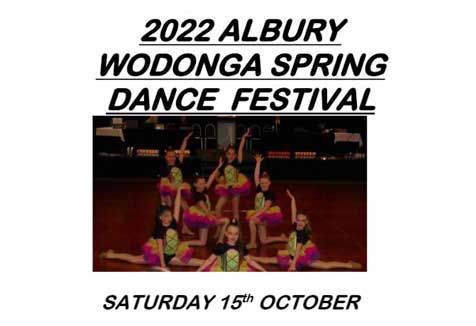 2022 Albury Wodonga Spring Dance Festival
The 2022 Albury Wodonga Spring Ballroom Dance Festival will be held on Saturday 15th October at the Albury Entertainment Centre, Swift Street Albury.
Doors will open at 8.00 AM
~ First Theatrical Event is scheduled for 8.30 AM
~ First Ballroom Event is scheduled for 4.00 PM
REMINDER:
CASH ONLY ENTRY - Please ensure all your families are aware.
General Admission tickets are available at the door - Adults $30, Under/16yrs $20.
Reserved Front Row Tables - Available with payment in advance 10 Seats = $400.
Come along and enjoy a great day of dancing with the cafe and full bar service operating throughout the program.
Looking forward to your company!
Kind Regards,
Sheree & Kylie
DanceSport Entries & Entry Fees
Please enter and pay your entry fees via the DSA Entry System.
Entries close 5 October 2022