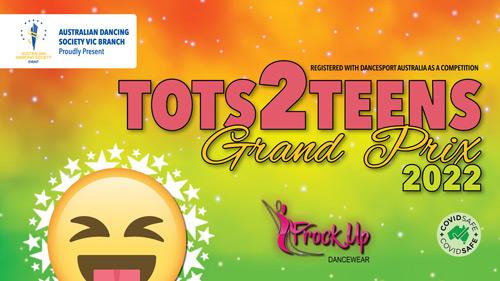 2022 ADS Vic Tots2Teens Grand Prix
Our next event on the Melbourne dance calendar - Tots 2 Teens Grand Prix - will be held at an exciting new venue for 2022 on SUNDAY 19th June! Specifically for dancers 18 years and under with lots of events for Social (or less experienced competitors) along with a full programme of events for registered competitors! We hope you can join us for a fun and friendly day of competition!
Progressive teams - three age groups and two different styles to specially recorded music! Contact Meagen if you need a copy.
Perpetual trophies - if you or your Studio could please check if you are holding any of our Tots Perpetual trophies and let our organisers know (we are missing a few!)
Entries are open. Please enter at https://dancesport.org.au/entry/start.php?comp=452
New venue - The Grand on Cathies Lane
If you have any queries or require further information please contact Meagen or Shane on the email below.