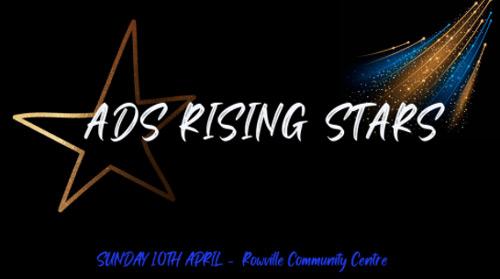 2022 ADS Rising Stars
ADS Victoria is proud to present the ADS Rising Stars. This event is a brand new Development Competition to be held on Sunday 10th April at the Rowville Community Centre.
A chance for the developing dancers of Victoria to challenge themselves in a fun and friendly atmosphere!
Included are a range of Social events aimed at both the younger and inexperienced dancers that have not competed before, or registered with Dancesport Australia.
Recreational events for all age groups along with a full programme of events for Under 16's will be available and introducing both Synchro Duo events Team events for that extra bit of fun!
We are sure you will find some value in this event for yourself, or your students and look forward to you joining us at the Rowville Community Centre.
Entries and Entry Fees
All entries are via the DSA Entry System.
$5 Entry Fee for all events (No Entry Fee for team events).
Entries close 25 March 2022.
Entries are confirmed upon payment of the Entry Fee. Payments are via the DSA Entry System.
Competitor Admission Tickets
All Competitiors $10 each
Payable via the DSA Entry System
Spectator Tickets
Self printed tickets available for purchase via the DSA Ticket System.
Adults - $25
Under 16s - $15
Enquiries
For further information please contact the organiser - secretary.ads.vic@gmail.com