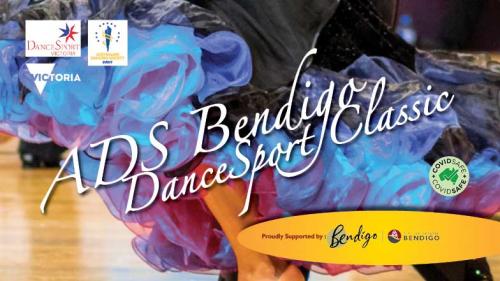 2022 ADS/DSV Bendigo Classic - Ticketek Update
Information Update - 11 October 2022
Tickets now on sale via Ticketek
We are now pleased to advise that tickets for the ADS / DSV Bendigo DanceSport Classic will be on sale through Ticketek from 1.00PM Tuesday 11th October 2022. To access the site, please use the link below:
https://premier.ticketek.com.au/shows/show.aspx?sh=ADSBEN22
Tables have been allocated as requested however all tickets (including table seat tickets) will need to be purchased through Ticketek.
Tickets will be available at the door but to save time upon entry we recommend you purchase tickets prior to the day of the event.
Thank you for your patience - this has been a process that we needed to work through."
Regards,
Max & Jean Baker
Co-Organisers
ADS / DSV Bendigo DanceSport Classic
0412 354905
Information Update - 26 September 2022
Entries Close – Friday 1st October 2022
Note that all entries must be submitted through the DSA On-Line Entry system – Entry Fees MUST be paid before your entry is valid.
Event Changes –
Added: Juvenile C Grade Couples
Standard Waltz & Quickstep
New Vogue Parma Waltz & Merrilyn
Latin Samba & Cha Cha
Added: Sub Juvenile C Grade Couples
Standard Waltz & Quickstep
New Vogue Parma Waltz & Merrilyn
Latin Samba & Cha Cha
Changed: Sub Juvenile Open Couples
Standard Waltz & Quickstep
New Vogue Parma Waltz & Gypsy Tap
Latin Samba & Jive
Ticketing – ALL ticketing will now be through Ticketek and unfortunately due to unforeseen circumstances ticketing will not be available until early October – we will advise via Facebook when ticketing is available. Note that you will be able to purchase tickets through the Ticketek Box Office at the door.
Table Reservations – Tickets must be purchased through Ticketek BUT if you want to reserve tables, so your studio sits together, please contact Jean Baker on 0412 354904 or adsbendigo2022@gmail.com
---
ADS Vic and DSV are excited to present the 2022 ADS / DSV Bendigo DanceSport Classic to be held on Saturday 22nd October at the Bendigo Stadium.
Bendigo is less than 2 hours from Melbourne and the Bendigo DanceSport Classic has become an important event on the Victorian dance calendar. The City of Greater Bendigo has plenty of tourist attractions for those who choose to stay overnight on the Saturday night and with the first event taking the floor at 10.00AM on the Saturday, it makes for an enjoyable weekend away.
The competition is run jointly by the Australian Dancing Society (Vic Branch) and DanceSport Victoria and offers a full range of events from Social through to Open events in all styles and age brackets. Coach / Student events have been included and Solo and Duo / Trio events in the Under 16 Division.
The day will commence with the Under 16 Division and will then follow with Amateur events – Under 16 results will be announced early in the afternoon for those who wish to travel back – but we encourage families to stay in Bendigo and enjoy all that Bendigo has to offer on the Sunday.
Admission prices have been kept low and table seating is available around the massive dance floor – remember this is a basketball stadium so please ensure heel grips are included when you pack as we need to be conscious of the Stadium requirements and protect their floor.
As a lead up to the ADS Australian Championships it is an excellent opportunity to compete on a large dance floor (approximately the same size as the floor at Nova).
The dance sheet is in Studios and now on the DSA website – please contact Max or Jean Baker for any further information.
Entires
All entries and entry fees via the DSA Entry System
Entries close 1st October 2022.
Please remember, entries are only valid once the entry fees have been paid.
Competition Syllabus and Information
Link to syllabus and competition information
General Enquiries
For the latest information please visit our Facebook page or contact...
Max Baker - 0412 354 905 - email: adsbendigo2022@gmail.com
Accommodation
For accommodation options please contact Bendigo Visitor Centre