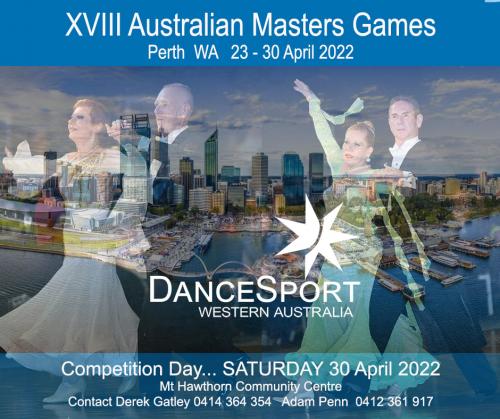 XVIII Australian Masters Games Perth
Preparations are now well underway for DanceSport as part of Australia's best multisport festival - the 2022 Australian Masters Games!
The Games will take place from Saturday 23rd to Saturday 30th April 2022 in Perth, Western Australia with more than 8,000 participants expected to head west to enjoy an unmissable sport and social program. And the best news is, you don't have to meet qualification standards to participate, just the minimum age requirement for the sport.
The syllabus for the DanceSport events hs been released and you can check the details below. We are also pleased to release the following details so that everyone can start planning.
Details for DanceSport are...
Date: Saturday 30th April (10am to 3pm)
Venue: Mount Hawthorn Civic Centre - Main Hall, 197 Scarborough Beach Rd, Mt Hawthorn WA 6061
Age groups: Minimum age 35 years (determined as at 31 December 2021). As per DSA "Rules of DanceSport": Masters 1, Masters 2, and Masters 3.
Events: All events to be conducted under the DSA "Rules of DanceSport". Amateur, Recreational, Para Dance, All Abilities, Coach/Student, Pro/Am, and Social events.
Full syllabus of events shown below.
More info: www.australianmastersgames.com/sport/dancesport/
The Australian Masters Games is renowned for its social program almost as much as the sport. And in 2022 the social program, which brings together participants from all sports, will be bigger and better than ever before.
2022 is the year for getting back into sport, reconnecting with old friends and making new ones, and exploring more of our backyard.
Let's get active, social and adventurous together in 2022!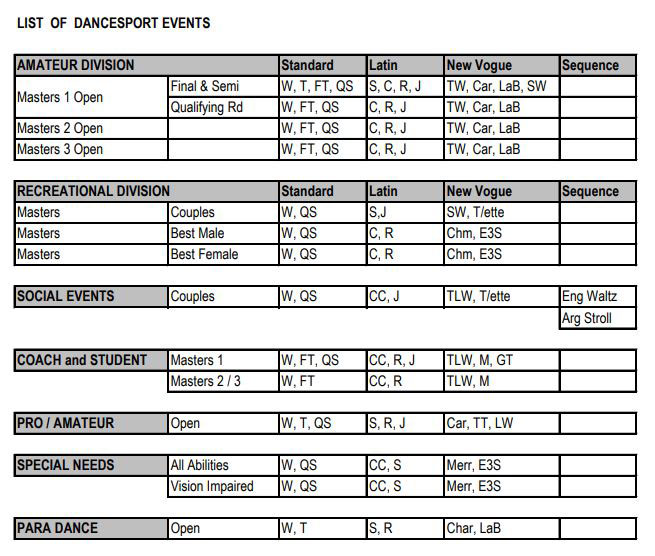 FACT BOX
2021 Australian Masters Games snapshot:
When:

Saturday 23 April – Saturday 30 April 2022

Where:

Perth, Western Australia

Who:

Approximately 8000 participants. Participants don't have to meet qualification standards, just the minimum age requirement, which in most sports is 30 years.

What:

The Australian Masters Games is a week-long festival of sport that brings together weekend warriors to enjoy an extensive sporting and social program in an exciting holiday destination. The Games will feature 50+ sports, ranging from athletics and dragon boat to softball and tennis.


The Australian Masters Games will also comprise an extensive social program, including opening and closing ceremonies and opportunities to explore Perth and Western Australia.

Why:

The Games are owned by the Confederation of Australian Sport and conducted under their charter of 'Sport for All', providing participation and competition opportunities for people over the age of 30 years, regardless of background or ability, aimed at encouraging healthy active lifestyles and lifelong participation in sport.

The Australian Masters Games is supported by the Western Australian Government, through Tourism Western Australia and planning for the event is taking place in line with the latest health advice.

Website:

www.australianmastersgames.com/sport/dancesport/