To share this news on Facebook click here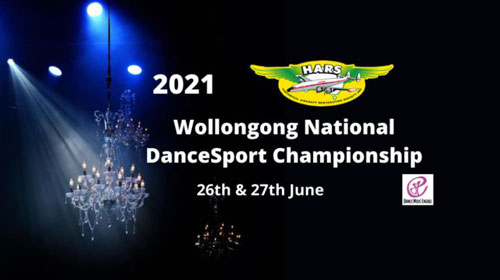 2021 HARS Wollongong National DanceSport Championship
Dance Move Engage (DME) will again present the 2021 Wollongong National DanceSport Championship at the Wollongong University Hall on Saturday 26 and Sunday 27 June, and is proudly sponsored by HARS, the Historical Aircraft Restoration Society.
Here is a message from the President, Neale Byrnes...
As President of Dance Move Engage (DME), it gives me great pleasure to once again present this spectacular and glamorous National event for every Australian DanceSport enthusiast's calendar.
Our wonderful naming rights sponsor, H.A.R.S, together with our production company CMG-AV ensures that we showcase DanceSport in Australia in the distinguished manner it deserves in front of a full house of spectators and hopefully even livestream to the rest of the world!
Following a crazy year of Covid19 and event cancellations, it is DME's hope that every competitor travelling from within NSW, interstate or over the ditch will be able to appreciate the extent we, as a team, have gone to in order to fulfil expectations and to continually strive to improve this National Championship.
As an organisation, Dance Move Engage has always prioritised the development of the DanceSport industry, focusing initially on grass roots competitions such as our Champions of the Future events. As more and more competitors wanted to compete at our events, we listened to the needs of our DanceSport Community. The natural progression was inevitable for Dance Move Engage as an organisation to expand to a National stage and we intend to take the same care in programming, styling, presenting and simplifying fee structure in order to ensure the best outcome for all involved.
We look forward to seeing many of you there and you can secure your spot by ordering your tickets via Tickets and entering via the DSA Entry System Enter Here
The countdown to Saturday 26th and Sunday 27h June 2021 is on!
In the meantime, enjoy your dancing.
Neale Byrnes
President Dance Move Engage